Range Repair Avon
Is your oven not heating evenly?
Are your stovetop burners failing to ignite?
Has your range been making loud unusual noises?
It's Time for Expert Range Repair.
Solve your Range Issues Fast with Appliance Repair Services in Avon, Ohio from FIX IT Appliance.
Kitchen ranges are a standard appliance in homes around the city and are highly depended on. If kitchens are the heart of the house, your range is a big reason why. When your range breaks down or performance declines, it disrupts the flow of your daily life by prohibiting the ability to cook warm food. Call FIX IT appliance for range repair in Avon, Ohio, to get your kitchen up and running again.
Signs You Need Appliance Repair Services for Your Kitchen Range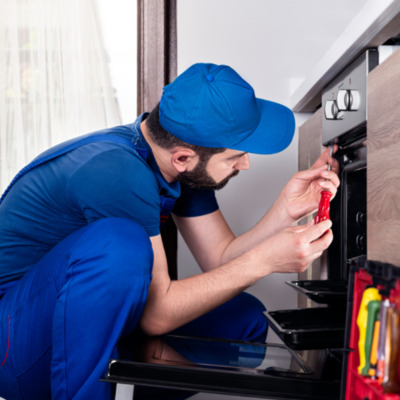 Heating Elements
No Power
Noises/Vibration
Smells
Display Issues
Burners Won't Turn On/Off
Cold/Undercooked/Raw Food
Door Won't Close
Dangers of Delaying Range Repair in Avon
In some instances, a finicky range, stovetop, or oven may seem like a temporary problem, leading homeowners to skip range repair in favor of a seemingly operational range. Unfortunately, that is rarely the case.
When your range shows signs of distress, decline, or disturbance, you need a technician from an appliance repair service to take a look and ensure nothing is seriously wrong. The longer you wait for range repair in Avon, the more severe seemingly minor problems will become.
Fast, Trusted, and High-Quality Range Repair in Avon means more savings and less downtime.
What Can You Expect with Range Repair from FIX IT Appliance
Identify a Sign, Call a Repair Service
Diagnosis & Estimate
Repair & Rejoice
Start Using Your Range Again
The Best Range Repair Nearby Avon, Ohio
Are you thinking you need an appliance repair service or shop that offers range repair near me?
Then, FIX IT Appliance is right for you. We offer range repair in Avon and other kitchen and laundry appliance services right to your door. Don't waste another second shopping for parts and reading DIY tutorials. Streamline repair with technicians you can trust at FIXIT Appliance.
Kitchen Ranges vs Ovens or Stovetops
A kitchen range is the traditional oven-stove duo found in many modern kitchens near Ohio. Ranges often need special attention when it comes to appliance repair in Avon. They're essentially two different types of equipment merged into one, meaning that their hardware and functionality can be more complicated. For all major kitchen appliance repair services in Avon, from range repair to oven repair, stove repair, dishwasher repair, fridge repair, and more, choose FIX IT appliance.
Why Choose FIXIT Appliance for Range Repair in Avon
Pricing: We always provide upfront pricing, so you know there are no surprises when you schedule appliance repair services from FIX IT Appliance.
Quality: Quality is our top priority. There is no room for anything less than the best range repair in Avon. That's why we always use high-quality materials and deliver high-quality workmanship.
Response Times: When appliances break down, time is of the essence, and we know that. We're available throughout the week and can be reached via our convenient text line for fast response in and around Avon.
Certified & Experience: Our team is recognized by popular appliance manufacturers (Samsung, Kenmore, LG, Electrolux, Whirlpool, KitchenAid, Maytag, Amana, Sub-Zero, & GE) around the USA for appliance repair services.
Reliable & Experienced: We're a family-operated business that has been trusted within the Avon community and its surrounding neighborhoods for reliable and quality range repair.