Refrigerator Repair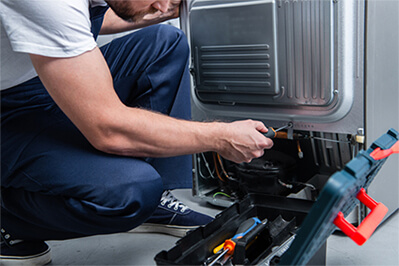 FIXIT Appliance Repair specializes in all home appliances, including fridges and dishwashers; washers and dryers; ovens and ranges, and more. If your home appliance isn't working, we'll get it working right.
The professionals at FIXIT have experience with all of the major brands – from Whirlpool to Kenmore, to Maytag, and even Sub-Zero models. We make the process simple, and with excellent customer service.
FIXIT is a family-owned and family-run enterprise, and we're proud of our personalized service. It's not a surprise that many of our customers are generated through satisfied customers and customer referrals.
Appliances Eventually Break Down
Even today's modern appliances break down for one reason or another. With a fridge, we rely on smooth operation and performance day in and day out. Realistically, there's no appliance that's infallible. More than that, every appliance does have an expiry, and most appliances will need repairs as they age.
Some Problems with Refrigerators
A properly functioning fridge is simply a must in any home. Unfortunately, problems arise and repairs are required. The fridge may not be cooling properly. It may be constantly cycling. There may be a water leak somewhere. There may be freezer ice buildup. Or, the water dispenser (or ice maker) might be broken.
Why Proper Repairs are Required
Major appliances should be kept in good condition to ensure performance. That's why regular maintenance and proper repairs can save money in the long run. With refrigerators, proper upkeep simply ensures a longer life. Daily performance is assured, and better efficiency makes for reduced energy use.
Better Not to Avoid Repair Work
Neglecting appliance repairs could be a risky proposition. Certainly, it's not a good scenario if a fridge "shuts down". On the downside, the issues can get even worse. As an example, there could be added damage if a water leak affects more than just the fridge. Avoiding necessary repairs is not a good idea.
Basic Fridge Problems / Issues
Unlike a washer or dryer, a refrigerator is a critical appliance that presents serious consequences when not operating. When the fridge isn't keeping food cool or frozen, immediate action is required, and often emergency service. While other issues may not be as critical or urgent, repairs are still recommended.
Better to Choose a Professional
While a do-it-yourself repair is tempting with a fridge problem, a professional can quickly assess the problem and recommend the right "fix". Professional technicians have the tools, parts, and experience to ensure that repair work is done right. With an emergency, it's probably more important to call an expert.
Choosing the Experts at FIXIT
With appliance repairs, there's nothing like reliable, reputable service. For major household appliances, the team at FIXIT Appliance Service offers complete customer satisfaction by one of our factory-trained technicians. For added convenience, we also offer after-hours calls and weekend calls for urgent repairs.
At FIXIT Appliance Service, there is a one month guarantee for our services and a three-month guarantee for our installed parts. Our senior citizen customers are offered a discount of 10%.
Service Areas:
We service Avon, Avon Lake, Westlake, North Olmsted, Rocky River, Lorain, Fairview Park, North Ridgeville, Bay Village, Strongsville, Lakewood, Parma, Parma Heights, Columbia Station, Berea, Middleburg Heights, Grafton.
If you have any questions about our service areas, please give us a call: 440-512-9091