Appliance Repair North Ridgeville
Is one or more of your appliances not performing as they should?
The slightest change in your appliance could indicate the need for appliance repair services. Unusual sounds, odors, or malfunctions are out of the ordinary and should be addressed. In order to salvage your essential appliances, you should be able to recognize the early signs that your appliances need repairing.
At FIXIT Appliance Service, we provide reliable appliance repairs in North Ridgeville for some of the most popular brands. We offer fast, high-quality, and cost-effective repairs so that you can get your home up and running as soon as possible.
Whether your kitchen range won't heat up or the water doesn't drain from your washing machine, you can trust our technicians to restore your appliances - saving you money on replacements.
Signs You Need Your Appliance Repaired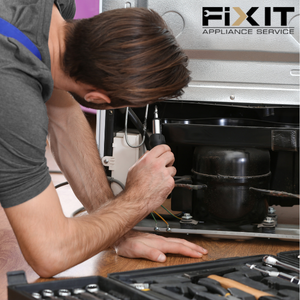 Perhaps your dishwasher is leaving your dishes with a dirty film or soapy residue, or your refrigerator isn't staying cold - regardless of the issue, there's a team of certified technicians to repair your appliances before they get worse or aren't usable anymore.
Foul Odors: If you notice any foul odors like sewage, rotten eggs, or gas, it's crucial to reach out to a professional repair company right away. Scents like sewage or gas could be a more significant issue, so it's essential to take care of them quickly.
Strange or Loud Noises: Strange or loud noises from any of your appliances are a reasonable cause for concern. If you hear a tapping or whirring sound from your refrigerator, it could be a sign that your condenser fan is not working correctly. Contact FIXIT Appliance Service for an appliance repair in North Ridgeville.
Unresponsive: If your appliances are unresponsive and not turning on, an appliance repair is needed immediately. To restore your appliances, contact a professional company to perform appliance repair services as soon as possible.
Malfunctioning/Deteriorating Performance: If you've had several issues with your appliance and nothing seems to be improving but instead getting worse, it's time to get an appliance repair done by expert technicians.
Contact FIXIT for an expert appliance diagnosis and repair in North Ridgeville.
What Services Do We Offer?
Kitchen and laundry room appliances are necessary, and when they malfunction, they put a hold on your everyday tasks. At FIXIT Appliance Service, we offer a range of professional appliance services near North Ridgeville including, but not limited to, dishwasher, oven, or dryer & washer repairs to keep your important kitchen and laundry appliances in working order.
3 Easy Steps
Contact Us: Call, text, or email the technicians at FIX IT Appliance Service for repair services in North Ridgeville. Explain what you can about your appliance problem, and we'll head your way as soon as possible.
Diagnosis/Assessment: We send a trained and highly skilled technician at our first available time slot to diagnose and assess your appliance.
Expert Appliance Repair: One of our technicians will effectively repair your appliance using high-quality materials and years of industry experience. Soon enough, your appliance will be back to performing properly.
Why Choose FIXIT Repair Services for Your Appliances?
When choosing an appliance repair company in North Ridgeville, you'll want to hire a dedicated, reputable, and knowledgeable technician to handle your most essential appliances.
At FIXIT Appliance Service, we have years of experience, cost-effective pricing, and outstanding customer service that sets us apart from competitors.