Dishwasher Repair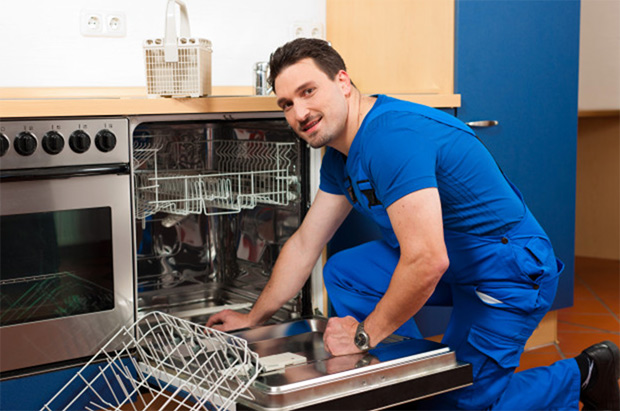 FIXIT Appliance Repair services all types of appliances including dishwashers and fridges, washers and dryers, ranges and ovens, and much more. If it isn't working, trust our professionals to make it work.
We service all the major brand names – from Kenmore to Whirlpool to Kitchen Aid, to Maytag, to Sub-Zero (and many, many more). We make appliance repairs simple and easy, from booking to repairs.
At FIXIT Appliance Service, we pride ourselves on our superb customer service. So it's not surprising that most of our business comes from the countless referrals from satisfied customers statewide.
Appliances Can Break Down
Appliance problems and breakdowns are certainly not uncommon. And today, we depend on each of our appliances to run smoothly and deliver performance. Unfortunately, no appliance is unfailing. The truth is, many major appliances have a limited lifespan, and many of them will need repair work along the way.
Problems with Dishwashers
If the dishwasher isn't cleaning everything thoroughly – it's a problem. It's also problematic if the dishes aren't drying properly. More than that, it can be a real problem if the machine is no longer fully draining. While some daily maintenance might avert such issues, some problems may require a professional.
Why Repairs are Important
There are countless reasons to keep major appliances in good repair. Indeed, regular maintenance and timely repairs will actually save money down the road. With dishwashers, proper repairs ensure longer life. As well, day-to-day efficiency is improved. And finally, better performance means less energy use.
Avoiding Needed Repairs
Neglecting an appliance repair could be risky. Certainly, it's straightforward if the machine simply "shuts down". But things could get more complex. In a worst-case scenario, there could additional damages, particularly if a water over-flow results in water damage. Avoiding basic repairs can be destructive.
Basic Dishwasher Issues
With dishwashers, there are some common issues that arise over time. It may be the inlet valve that lets water flow into the machine. It may be the wash arm, which sprays water. It may also be the drain pump, which drains dirty water. Or, it may be the circulation pump, which does the work cleaning the dishes.
Choosing a Professional
A DIY fix might be tempting when the dishwasher goes "down". But it's a professional who can quickly analyze a problem and determine the proper fix. Professionals have the parts, tools, and expertise to expedite repairs that are done right. In an emergency situation, it's even more critical to call a pro.
The Benefits of Choosing FIXIT Appliance Service
When it comes to household needs, nothing compares with a reliable and reputable service provider. And when it comes to appliances, FIXIT Appliance Service provides a high level of customer satisfaction. On every service call, we send a factory-trained appliance technician to meet your needs.
We offer evening calls, as well as weekend calls, especially when urgent repairs are required. Our labour is guaranteed for ONE month and our parts are guaranteed for THREE months. As for our valued senior citizens, we offer a 10% discount. Overall, customer satisfaction is 100% guaranteed.
Service Areas:
We service Avon, Avon Lake, Westlake, North Olmsted, Rocky River, Lorain, Fairview Park, North Ridgeville, Bay Village, Strongsville, Lakewood, Parma, Parma Heights, Columbia Station, Berea, Middleburg Heights, Grafton.
If you have any questions about our service areas, please give us a call: 440-512-9091