Microwave Repair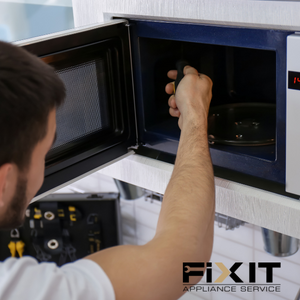 Microwave ovens are essential in the kitchen these days. If your microwave isn't working, the team at FIXIT Appliance Service is ready to fix it. We are family run and owned with well-equipped staff and technicians who service and repair ranges, ovens, washers, dryers, dishwashers, & fridges.
The team at FIXIT has direct knowledge for repairing all major brands, like Maytag, Sub-Zero, Whirlpool, or Kitchen Aid, and Kenmore. With a customer-first approach, you can understand why we take pride in our good customer service. In fact, much of our new business is a result of customer referrals.
Eventually, Kitchen Appliances Need Repairs
Most of us neglect to care for our appliances – until something goes wrong. When a kitchen appliance goes down, we suddenly realize how essential it is. While today's kitchen appliances are made to be durable and long-lasting, repair work of some type is eventually required (and sometimes expert repair work).
Problems and Issues with Microwave Ovens
With a microwave oven, some of the basic problems can be resolved by referring to the product manual. But this is a complex appliance and the best approach with breakdowns is to seek professional attention. Microwave breakdowns typically require a proper assessment and diagnosis, along with proper repairs.
The thing is, problems and issues can vary – the microwave may simply not be turned on; the keypad buttons may be acting up; food may not be properly cooked; and worse, the appliance is smoking when it's operating. Whatever the situation, it's far better to have an experienced technician handle the fix.
Appliance Breakdowns Should be Repaired
Whatever the type of appliance, you should hope it's operating to its full capacity. That means that problems should always be properly diagnosed and repairs addressed when required. Keeping appliances in good shape actually allows the appliance to last longer. On the flip side, neglecting issues could cause more problems.
It's Better Not to Avoid an Appliance Repair
Trying to not spend money on an appliance repair might be appealing, but avoiding repairs could cost even more. Microwave ovens aren't necessarily essential, but when they break it may cause some inconveniences. More importantly, having a professional repair may avoid the need for appliance replacement.
Do-It-Yourself Repairs / Professional Repairs
Because of the complexity of the unit, microwave ovens typically require some expertise when there's a breakdown. This is not a good time for a do-it-yourself remedy and it could even be risky. Professionals do it right the first time – we have the experience and equipment needed to provide the proper fix.
Choose FIXIT Appliance Service for Repairs
When your microwave breaks down, professional service is the best option. At FIXIT, our service team makes every effort to provide complete customer satisfaction – and we do our very best to provide the right fix the first time.
When emergency services are required, we offer convenient evening and weekend service calls. Parts are guaranteed for 3 months and labour is guaranteed for 1 month. Our senior citizen customers receive a 10% discount.
For more information, or to find out more about our service, contact us at 440.512.9091, or text us at 216.650.2666.
Service Areas:
We service Avon, Avon Lake, Westlake, North Olmsted, Rocky River, Lorain, Fairview Park, North Ridgeville, Bay Village, Strongsville, Lakewood, Parma, Parma Heights, Columbia Station, Berea, Middleburg Heights, Grafton.
If you have any questions about our service areas, please give us a call: 440-512-9091