Garbage Disposal Repair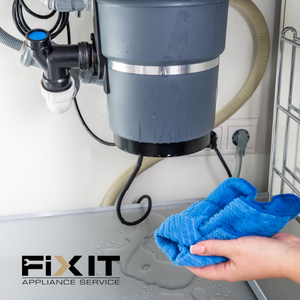 If your household appliance isn't working properly, FIXIT Appliance Service can make things right. We're proud of our customer service and appreciate the business that comes from so many referrals.
We are a family-owned and operated business. Our highly trained technicians service all types of washers, dryers, dishwashers, ovens, dishwashers, and fridges (we deal with all makes and models).
FIXIT technicians have direct experience with all appliances – including brand names such as Maytag, Whirlpool, Kitchen Aid, Sub-Zero, and Kenmore. Quality repairs are guaranteed on every service call.
Most Appliances Eventually Need Repair Work
Many homeowners tend to underestimate their appliances' value. Not surprisingly, the real value of their appliance becomes clear when it presents a problem or simply breaks down. Truth is, the modern-day appliance is durable, but eventually, repairs are needed – and sometimes an expert is necessary.
Common Issues with a Garbage Disposal Unit
Garbage disposal units also referred to as garburators, are practical and durable. Unfortunately, many problems and issues are caused by neglect or "overuse". When the garburator isn't working properly, it's sometimes difficult to ascertain the cause, which is why professional service and repairs are needed.
If the garburator unit doesn't turn on, there could be a host of issues going on. The disposal component might be jammed with something. The unit may be draining too slowly. There may be foul odours coming up from the unit. There may even be metal grinding noises. Worse still, the garburator may be leaking.
With Appliance Problems Repairs are Critical
Small appliance or large, the unit must operate properly to deliver full performance. Problems should be addressed, and where necessary, professional repairs should be made. Keeping an appliance working at its best also ensures a longer lifespan for that appliance (and often without the need for replacement).
Avoiding Repairs is a Shortsighted Approach
Saving some cash on a service call might be preferred, but avoiding an appliance repair could be costly down the road. While the garbage disposal unit is not essential, a breakdown could compromise day-to-day kitchen activities. More than that, professional repairs could prevent the need for replacement.
Choosing Professional Repairs vs. DIY Repairs
Garburator problems aren't that easy to diagnose without some professional expertise. This is not the best time to undertake a DIY solution (and could be dangerous). Our technicians have the experience and expertise, along with the proper tools and parts. It's also possible that urgent service is needed.
For Professional Appliance Repairs Try FIXIT
When your household appliance is in need of a repair, professional, reliable service is a welcome sight. At FIXIT Appliance Service, we are confident in providing customers with 100% satisfaction. We do our best to fix your appliance right away avoiding a second visit.
When urgent service is required, FIXIT can arrange for an evening or weekend service call. We provide a 3-month warranty on our appliance parts and a 1-month warranty on our labour. Seniors citizens get a 10% discount on every appliance service call.
To arrange for a service call, text FIXIT at 216.650.2666 or call us 440.512.9091.
Service Areas:
We service Avon, Avon Lake, Westlake, North Olmsted, Rocky River, Lorain, Fairview Park, North Ridgeville, Bay Village, Strongsville, Lakewood, Parma, Parma Heights, Columbia Station, Berea, Middleburg Heights, Grafton.
If you have any questions about our service areas, please give us a call: 440-512-9091