Oven Repair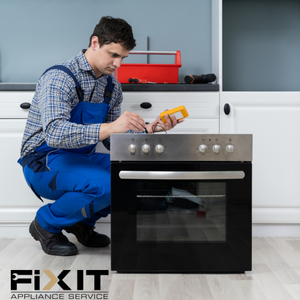 An oven is an essential appliance these days, and if it isn't working, day-to-day life can be affected. At FIXIT Appliance Service, our trained technicians make repairs to all makes of kitchen ovens and ranges, dryers and washers, and fridges & dishwashers.
We're a family-owned and family-operated business, dedicated to great customer service and high-quality workmanship. Our team of specialists has experience with all of the major brands – Maytag, Whirlpool, Sub-Zero, Kenmore, and Kitchen Aid.
At Some Point an Appliance Needs Repairs
While we use our appliances on a daily basis, we often end up taking them for granted until there's an issue. When the oven isn't working, for instance, we start to realize its importance. Today's appliances are built tough, but at some point, repair work may be needed (and oftentimes it's work that requires an expert).
Some Problems/Issues with Kitchen Ovens
For many homeowners, the oven is a critical component in the kitchen. It's used practically every day, so when something's wrong it can be problematic. Certainly, there are basic problems and issues that can be resolved personally, but because of the complexity of the appliance, a professional is often needed.
Gas oven or electric oven, many breakdowns do really need an expert. It may be a burner that doesn't light, or the oven not heating properly, or uneven temperature inside the oven, or simply the oven door not closing. Whatever the case, it's important to resolve, and sometimes a professional is an answer.
An Appliance Breakdown Should be Fixed
Household appliances should be performing as advertised. Breakdowns should be diagnosed and proper repairs should be made accordingly. Keeping your appliances in good working order actually assures a longer life for that appliance. On the downside, when breakdowns are neglected more problems arise.
Appliance Repairs Should Not be Avoided
It may be appealing to not spend money on a service repair, but avoiding appliance repairs could even cost more down the line. Ovens are quite essential, and a serious breakdown can affect day-to-day routine. The truth is, getting a professional repair is the best way to avoid a replacement in the future.
Professional Repairs are Better Than DIY
Ovens are complex appliances, and many of the issues that arise will require expertise to resolve. Most issues aren't suitable for a DIY fix, and sometimes things could get dangerous. Professional appliance technicians will do it right – they have the expertise, the special tools, and the necessary spare parts.
For Expert, Repairs Choose the FIXIT Team
When an oven breaks down, it's best to choose professional service. At FIXIT, our team of technicians makes an effort to provide the proper fix, and we do our best to deliver full customer satisfaction.
For emergency service, we offer service calls on the weekend and during the evenings. FIXIT parts are warrantied for three months and labour is warrantied for one month. Seniors receive a 10% discount.
To arrange for a service call 440.512.9091, or text 216.650.2666.
Service Areas:
We service Avon, Avon Lake, Westlake, North Olmsted, Rocky River, Lorain, Fairview Park, North Ridgeville, Bay Village, Strongsville, Lakewood, Parma, Parma Heights, Columbia Station, Berea, Middleburg Heights, Grafton.
If you have any questions about our service areas, please give us a call: 440-512-9091