Freezer Repair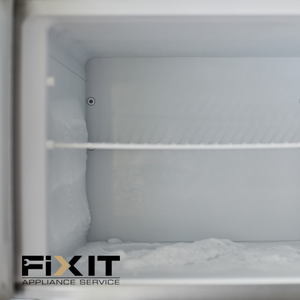 FIXIT Appliance Service is family-owned and family-run, providing expert appliance repairs for washers, dryers; ranges and ovens; and fridges and even dishwashers. We provide service for any brand you may have in your home.
If you have a major household appliance that is broken or not working properly, we'll provide the proper fix. We are happy to offer exceptional customer service, why is why most of our business comes from customer referrals.
At FIXIT, in-house technicians are equipped and trained with direct experience servicing a wide range of makes, like Whirlpool, Sub-Zero, Kenmore, Kitchen Aid, Maytag, and other makes and models.
Every Appliance Will Eventually Need Repairs
Today, we often take our appliances for granted. So it's no surprise that the value of each appliance becomes apparent when that appliance breaks down. True, modern-day appliances are durable, but they eventually need repairs – and there comes a time when a professional is required.
Some Problems and Issues with Freezer Units
There's no question that freezers have dramatically changed the way we preserve food. At the same time, it's not uncommon for mechanical problems to arise. The big deal with a freezer breakdown is that all of your food products are threatened, and day-to-day meal preparation is significantly disrupted.
Freezer problems develop for a variety of reasons, and the symptoms are often obvious – too much frost building up – freezer getting too cold – food is getting "freezer burn" – freezer feels too warm. Even when the freezer is making an unusual sound, it's likely a sign that something mechanical is out of order.
Repairing a Faulty Appliance is Important
Every appliance needs to operate at peak – and this is especially true for a freezer. It means that when problems arise, proper professional repairs are necessary. Keeping appliances working properly ensures peak performance and long life for the appliance. Prompt repairs will further ensure longevity.
It's Shortsighted to Avoid an Appliance Repair
Avoiding appliance repairs might save money on a professional service call, but it's shortsighted thinking. In fact, avoiding repairs might even be more costly. A freezer breakdown could very quickly turn into a calamity, so immediate service is key. Indeed, repairs may be an alternative to complete replacement.
Professional Repairs or Do-It-Yourself Repairs
Freezer problems are not typically simple, so a DIY remedy is probably not the answer. Today's freezers are technically advanced and complex – they really need professional attention. Appliance experts all the required tools and expert knowledge to do the work right. And sometimes, emergency service is the answer.
Choosing the Team at FIXIT Appliance Service
When a household appliance requires repair work, the best service is one you can rely on. The team at FIXIT strives for 100% customer satisfaction, making every effort to fix it right the first time.
We offer evening and weekend appointments when urgent service is required. Our customers receive a 3-month guarantee on parts and a 1-month guarantee on our labour. Seniors receive a discount of 10%.
To arrange for an immediate service call contact 440.512.9091, or text 216.650.2666.
Service Areas:
We service Avon, Avon Lake, Westlake, North Olmsted, Rocky River, Lorain, Fairview Park, North Ridgeville, Bay Village, Strongsville, Lakewood, Parma, Parma Heights, Columbia Station, Berea, Middleburg Heights, Grafton.
If you have any questions about our service areas, please give us a call: 440-512-9091