Washer Repair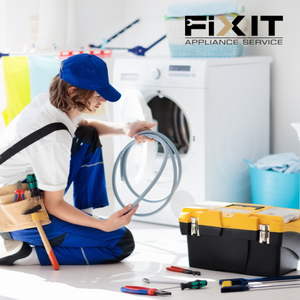 The professionals at FIXIT can service all of your household appliances – this includes dryers, washers, fridges, dishwashers, ovens and ranges. If it's not working properly, we'll make things work right.
Our highly trained technicians are experienced working with many brand names – including Whirlpool, Kitchen Aid, Maytag, Sub-Zero, Kenmore and others. We help appliance repairs be easy and stress-free.
FIXIT Appliance Repair takes pride in their family-run business. Our excellent customer service and our quality approach is a result of it. We have satisfied many customers and receive countless references.
Appliances Do Break Down Eventually
Washing machines are incredibly useful in any family home. For many of us, we start to appreciate the value of an appliance when it suddenly stops operating. While today's washing machines are tough and resilient, they do break down. And there does come a time when professional repair work is required.
Avoiding an Appliance Repair is Unwise
Avoiding appliance repairs is certainly a way to avoid extra costs. This is short-term thinking and might be risky. When a washing machine goes down, it's not necessarily a calamity, but repairs could avoid the bigger cost of complete replacement. Additionally, proper repairs can improve longevity dramatically.
Typical Issues with Washing Machines
Some operational issues with wash machines can be easily corrected by checking the product manual. However, there are issues that will need a professional – like a machine that is improperly draining – or a machine that does not spin properly – or a machine that does not fill with water during the wash cycle.
Why it's Important to Repair Appliances
With any major appliance, it's preferable to keep things running well. Scheduled maintenance and proper repairs are essential in ensuring maximum performance. In truth, this approach will actually save money. By keeping a washing machine in good condition peak performance is ensured for many years.
Some Common Problems With Washers
With washing machines, many of the trouble signs will eventually require professional attention. If the machine is strangely vibrating, it's a problem. If the wash cycle stops working in mid-cycle, something is wrong. And if the water isn't properly draining prior to the spin cycle it's a trouble that needs attention.
Professional Repairs and DIY Remedies
Certainly, there are simple problems that might be remedied with a DIY approach. Typically, most washer issues will need a professional diagnosis and a professional "fix". The fact is, professionals carry the tools and have the expertise to make appropriate repairs. When it's an emergency, expertise is a must.
Working with The Professionals at FIXIT
If your washer, dryer or any other appliance needs repairs, the best option is reliable, professional service. At FIXIT our company aim is to provide full customer satisfaction. We dispatch highly trained technicians for all service calls and offer evening/weekend appointments when repairs are urgently required.
FIXIT offers customers a one-month labour guarantee and three-month parts guarantee. Senior citizens always save 10%. To arrange for a service call, contact our appliance experts at 440.512.9091, or text 216.650.2666. Customers can also visit us online.
Service Areas:
We service Avon, Avon Lake, Westlake, North Olmsted, Rocky River, Lorain, Fairview Park, North Ridgeville, Bay Village, Strongsville, Lakewood, Parma, Parma Heights, Columbia Station, Berea, Middleburg Heights, Grafton.
If you have any questions about our service areas, please give us a call: 440-512-9091