Range Repair
Is your food easily becoming overcooked? Or is it taking longer than usual to cook? Is there an error code on your range display that you can't figure out?
You Need Professional Range Repair Services in Avon.
Kitchen ranges are essentially two appliances in one, while they're essential and convenient, this means that when something does go wrong, there's nearly double the amount of causes. Get to the bottom of your kitchen range issues with range repair from FIX IT Appliances. Our team of experts provides high quality and reliable appliance repair in Avon, Westlake, and North Olmstead, Ohio helps homeowners quickly return their appliances to working order.
Choosing Range Repair Services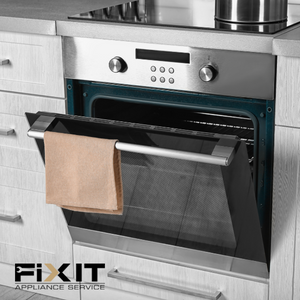 As a family-owned and family-run business, FIXIT Appliance Service provides repairs for all major household appliances, including washers, dryers, ranges, ovens, fridges, and dishwashers.If your range or any other appliance is malfunctioning or if it's completely down, we can help make it right. We're proud of our customer service, our quality approach to repairs, and the countless references we receive.
FIXIT technicians are highly trained specialists, with experience repairing all the top brands. We service Whirlpool, Kenmore, Kitchen Aid, Sub-Zero, Maytag, and countless other appliance makes.
Don't Delay Range Repair
In some cases, not repairing your appliances might save some money on a service call. But it's not worth the more costly repairs or replacements that might be required in the future. When an appliance breaks down, it may not necessarily be a disaster, but proper repairs could well avoid the huge cost of replacement. Repairs increase lifespan. Appliances need to be operating at peak performance making scheduled maintenance so critical, and why proper repairs are essential. Truth is, preventive maintenance actually saves money. When you keep an appliance in good working condition, proper functionality is assured, and many years of operation.
Signs You Need Appliance Repair for Your Range
Overcooked/Undercooked: If recipes you've been cooking for many years suddenly start to take longer to cook, or burn very easily, then there is likely a problem with the heating elements in your oven or stove that requires range repair.
Power: If your oven won't start or the burners won't light, then there could be an issue with the power supply or heating elements throughout the range.
Noises: Besides a kitchen fan, the range is typically a quiet appliance, so if you start to hear unusual noises while your range is running, like ticking, buzzing, or clanging.
Odors: When the smells coming from your kitchen range from aroma to strange odor, it's time to pay extra attention. Smoke, burning, and gas could mean trouble for your appliance. To be safe, call FIX IT appliance right away for diagnosis and appliance repair in Avon when you notice a serious odor.
Common Problems/Issues with Ranges
Because a kitchen range comprises complex electrical components, many issues do require professional service. For sure, there are basic breakdowns that could be resolved with a DIY approach, but anything more serious would require a proper diagnosis, followed by a professional recommendation for repairs.
One of the more common problems with kitchen ranges involves the surface elements:
they don't turn on
they don't turn off
they don't get hot enough.
If the electronic "control board" is involved, expert attention is definitely required.
Professional Range Repairs Over DIY Repairs
Simple problems that don't require much expertise may well be remedied with a do-it-yourself fix. But today's ranges and ovens are complex appliances. Professionals have the right tools and spare parts that make for a quick repair. More than that, they have the experience to fix it properly the first time around.
Working with FIXIT Appliance Service
For range repair and all your major household appliance repair near Avon, Westlake, and North Olmstead, contact the FIX IT team. We are a certified range repair service that offers top notch repair and high level customer service.
FIXIT offers evening appointments and weekend appointments for customers who require emergency service. We also offer a three-month guarantee on parts and a one-month guarantee on labour. Seniors receive a 10% discount.
For more information about FIXIT or to arrange a service call, call 440.512.9091 directly, or text 216.650.2666.
Service Areas:
We service Avon, Avon Lake, Westlake, North Olmsted, Rocky River, Lorain, Fairview Park, North Ridgeville, Bay Village, Strongsville, Lakewood, Parma, Parma Heights, Columbia Station, Berea, Middleburg Heights, Grafton.
If you have any questions about our service areas, please give us a call: 440-512-9091