Dryer Repair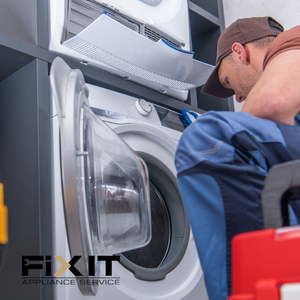 At FIXIT Appliance Service, we provide expert repairs for all makes of household appliances, including washers, dryers; dishwashers and fridges; as well as ranges and ovens. If it's broken, we fix it.
The technicians at FIXIT are experienced with all brand name appliances – from Whirlpool to Maytag, Kenmore, Sub-Zero, Kitchen Aid and more. Our approach to repairs is made simple and straightforward.
As a family operated and owned business, the team at FIXIT delivers the ultimate in personal customer service. It's no surprise that we have so many satisfied customers, along with many referrals.
Every Appliance Eventually Breaks Down
Household appliances are used every day making them subject to break down and require repair. Although a clothes dryer isn't vital, we still rely on optimal performance for day-to-day needs. Realistically, most every appliance will have some sort of breakdown during its lifespan. As such, many appliances will require repair work at some point.
Common Difficulties with Clothing Dryers
Clothes dryers provide time-saving convenience in every modern home. Unfortunately, from time to time, a problem will arise and repair work is required. The dryer might not be warming up. The dryer drum may be turning off improperly. Or the dryer may be operating noisily – a certain sign that something's off.
Why Appliances Require Proper Repairs
With about five major appliances in every home, it's important to keep everything in good shape. And in order to ensure maximum performance, routine maintenance and repairs are a must. This actually saves money down the line. Keeping the clothes dryer in good repair ensures longevity and peak performance.
It's Best to Not Postpone Appliance Repairs
Avoiding appliance repairs might save some money in the short term but could be potentially risky. If the clothes dryer "shuts down" unexpectedly, it's not the end of the world, but appropriate repairs may preclude the need to replace the appliance. In many cases, repairs can dramatically improve longevity.
Some Basic Problems with Clothes Dryers
When the clothes dryer is malfunctioning, the symptoms tend to be obvious. Strange noises or vibrations are symptomatic of a problem. Overheating or under heating is also a sign of trouble. And certainly, if the dryer is not getting clothes dry it's an issue. Big problem or small, professional repairs are recommended
Professional Repairs Are the Best Option
With a simple dryer problem, a DIY remedy may be possible. But anything complex needs a professional to diagnose the issue and suggest the proper remedy. Professionals have the tools, replacement parts, and proper experience to make the right repairs. If it's an emergency, a professional is essential.
For Professional Repairs Choose FIXIT
When a household appliance needs repairs, nothing beats reputable and reliable service. At FIXIT, we provide 100% customer satisfaction, with technicians who are factory-trained and who do the work right the first time. We also offer evening appointments and weekend appointments for urgent repair work.
FIXIT provides a labour guarantee for 1 month and a parts guarantee for 3 months. Senior citizens receive a 10% discount. Request more information by calling one of our in-house technicians directly at 440.512.9091, or text 216.650.2666.
Service Areas:
We service Avon, Avon Lake, Westlake, North Olmsted, Rocky River, Lorain, Fairview Park, North Ridgeville, Bay Village, Strongsville, Lakewood, Parma, Parma Heights, Columbia Station, Berea, Middleburg Heights, Grafton.
If you have any questions about our service areas, please give us a call: 440-512-9091