Dryer Repair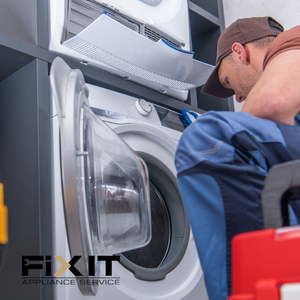 Laundry appliances serve an essential function in any household. When a dryer goes out, it can disrupt the daily routine and become very stressful. You can avoid the cost of replacing your dryer by learning and recognizing the signs of a dryer malfunction.
Have you noticed your dryer…
Drum not spin
Stop mid-cycle
Make unusual noises (banging, squealing, popping, rattling, grinding)
Emit unpleasant odours
Fail to heat up
Ineffectively dry clothes
If you have, you're in need of dryer repair services.
In most cases, the longer you wait to act, the more extensive damage becomes. With reliable dryer repair services in Avon, Avon Lake, Westlake, and North Ridgeville, FIXIT Appliance services provides high-quality appliance repair services available 7 days a week.
The Lifespan of Your Dryer
Household appliances are used every day making them subject to break down and require repair. Although a clothes dryer isn't vital, we still rely on optimal performance for day-to-day needs. Realistically, most every appliance will have some sort of breakdown during its lifespan. As such, many appliances will require repair work at some point.
Look Out for The Common Dryer Problems
Thermal Fuse: a blown or overheating thermal fuse is often the result of heat build-up or debris and is key to preventing dryer fires. A blown thermal fuse stops electric dryers from heating up, or in many cases, it does not start at all. Once a thermal fuse is blown, it must be replaced. Located around the exhaust vent, it's likely that another issue with the wiring or ignitor caused this event and should be handled by certified dryer repair services in the area.
Lint Build-Up: Lint in dryers is virtually inevitable. However, as more lint is accumulated, it can clog exhaust vents and do damage quickly and reduce the energy efficiency of the dryer, costing you more on your monthly heating bills by minimizing airflow and increasing drying times. Inspections and regular dryer maintenance from your local appliance repair services will help identify and eliminate excess lint. Lint build-ups can also be a result of nests, broken transition hoses, and condensation build-up in the ducts.
Motor & Support Parts: A noisy dryer and a drum that won't turn are telltale signs of something wrong with the dryer. Usually, the problem here lies with the motor, belt, rollers, bearings, or glides. Excess pressure is put on the rollers when the drum is overloaded, eventually straining the motor. All of these drum support parts are interconnected and essential to effective dryer performance. Without intervention, these issues worsen over time. Motor issues are safest handled by trained technicians from local dryer repair services.
At FIXIT Appliance Services in Avon, Avon Lake, Westlake, and North Ridgeville, our team of specialists uses high-quality materials to replace damaged parts.
Broken Switches: For a dryer to operate, the start switch and the door switch need to be in working condition. Either a faulty switch, electric control board error, or a broken timer can cause the dryer to stop working. Unfortunately, a switch issue is not a DIY issue. If the drum light does not turn on when the switch lever is activated, then you will need dryer repair technicians from FIXIT Appliance Services to take a look. We will assess the cause of the problem and replace it with an approved dryer switch.
Effective Dryer Repair Services
With about five major appliances in every home, it's important to keep everything in good shape. And in order to ensure maximum performance, routine maintenance and repairs are a must. This actually saves money down the line. Keeping the clothes dryer in good repair ensures longevity and peak performance. Avoiding dryer repair can be incredible costly in the long rong and potentially risky. If the clothes dryer "shuts down" unexpectedly, it's not the end of the world, but appropriate repairs may preclude the need to replace the appliance. In many cases, repairs can dramatically improve longevity.
Don't Delay Dryer Repair
With a simple dryer problem, a DIY remedy may be possible. But anything complex needs a professional to diagnose the issue and suggest the proper remedy. Professionals have the tools, replacement parts, and proper experience to make the right repairs. If it's an emergency, a professional is essential. When a household appliance needs repairs, nothing beats reputable and reliable service. At FIXIT, we provide 100% customer satisfaction, with technicians who are factory-trained and who do the work right the first time. We also offer evening appointments and weekend appointments for urgent repair work.
Act Fast With Dryer Repair Services from FIXIT Appliance Services
Don't let dryer problems get worse. Act fast and save on heating bills and dryer replacement with reliable dryer repair services in Avon, Avon Lake, Westlake, and North Ridgeville. Our Ohio-based appliance repair shop is a manufacturer-certified repair team that offers affordable diagnosis, maintenance, and fixes.
At FIXIT Appliance Service, we provide expert repairs for all makes of household appliances, including washers, dryers; dishwashers and fridges; as well as ranges and ovens. If it's broken, we fix it. The technicians at FIXIT are experienced with all brand name appliances – from Whirlpool to Maytag, Kenmore, Sub-Zero, Kitchen Aid and more. Our approach to repairs is made simple and straightforward. As a family operated and owned business, the team at FIXIT delivers the ultimate in personal customer service. It's no surprise that we have so many satisfied customers, along with many referrals.
FIXIT provides a labour guarantee for 1 month and a parts guarantee for 3 months. Senior citizens receive a 10% discount.
Call or text us to schedule a repair or learn more about our dryer repair services in Ohio near Avon, Avon Lake, Westlake, and North Ridgeville.
Service Areas:
We service Avon, Avon Lake, Westlake, North Olmsted, Rocky River, Lorain, Fairview Park, North Ridgeville, Bay Village, Strongsville, Lakewood, Parma, Parma Heights, Columbia Station, Berea, Middleburg Heights, Grafton.
If you have any questions about our service areas, please give us a call: 440-512-9091