Appliance Repair Westlake
Experienced and Factory-Trained Technicians. Weekend and Evening Scheduling is Available!
Get your home appliances up and running fast with trusted appliance repair in Westlake, Ohio.
Is your laundry piling up while your dryer refuses to turn on? Do you have a fridge full of food that won't stay cool?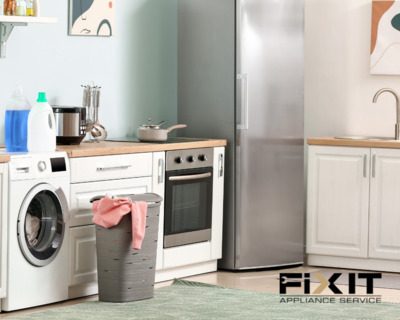 FIX IT NOW with local, affordable, and reliable appliance repair from FIX IT Appliance in Westlake. We service all major appliance brands, including Kenmore, Samsung, LG, Whirlpool, KitchenAid, Frigidaire, and more! Call us to see how we can help your appliance.
Kitchen and laundry appliances play a vital role in the modern household, so when they start to break down, they can create frustration, disruptions, and more problems around the home. If you notice signs that your appliances are on the fritz, reach out to an appliance repair specialist at Fixit Appliance.
Don't Delay Appliance Repair in Westlake
When appliances start to experience mechanical issues, they can worsen over time. If you run an appliance without addressing a lingering problem, you might be causing even more damage.
Sometimes, especially in the case of stoves, ranges, and dryers, a broken appliance can be a risk of fire or even electrical damage. In all situations where you think you need appliance repair, call a professional to assess the situation. At Fixit Appliance, we offer emergency appliance repair in Westlake. We have an easy-to-reach text line in urgent cases, and we can be at your house ready to repair seven days a week.
Common Signs You Need Appliance Repair
These household machines have evolved over the years, and each serves a specific purpose, but in many cases, the signs that something is malfunctioning or breakdown are often similar.
Mold: If you smell pungent odors coming from the fridge, washing machines, dishwasher, or any water-dependent appliance, you might have a leak resulting in mold around your home.
Smoke: The odor of smoke coming from any of your appliances is a sign that something is very wrong. You should turn it off and call our team right away for diagnosis and appliance repair in Westlake.
Sounds: Any loud or unusual noises like humming, rattling, squealing, or banging mean that something internally is not operating as it should.
Temperature: Appliances will often have a problem with their power supply or internal wiring, causing them to not heat up or turn on.
Our Appliance Repair Store Westlake Fixes:
Washers
Dryers
Dishwashers
Refrigerators
Range
Oven
Freezer
Garbage Disposal
Microwaves
And more!
If you suspect that your kitchen or laundry appliances are not running as they are meant to, call FIX IT Appliance. We'll take a look at it and provide your best solution, whether that's repair or replacement.
Call us at 440-512-9091 or Text us at 216-650- 2666 for professional and quick appliance repair services in Westlake, Ohio.
Service Areas:
We service Avon, Avon Lake, Westlake, North Olmsted, Rocky River, Lorain, Fairview Park, North Ridgeville, Bay Village, Strongsville, Lakewood, Parma, Parma Heights, Columbia Station, Berea, Middleburg Heights, Grafton.
If you have any questions about our service areas, please give us a call: 440-512-9091