Washer Repair Westlake
Are you tired of your washer not working the way it should?
Instead of spending more money on replacing your appliance, a washer repair can make all the difference.
Your Laundry Appliances Need Expert Assistance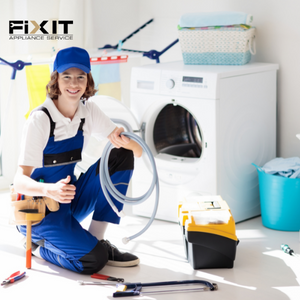 If left unfixed, leaks are likely to occur, causing water damage, mold, mildew, and excess moisture in the area.
Signs You Need a Repair
Strange noises: banging, thumping, squeaking
Clothes don't clean properly
Leaks or floods
Movement during cycle
The drum is not draining or spinning
If you notice these signs, your washer needs an appliance repair in Westlake.
Easy as 1, 2, 3!
Contact FIXIT Appliance
We provide a thorough diagnosis & recommend the next steps
Our technicians repair your appliance & restore any damages
It's not too late to get an appliance repair in Westlake.
FIXIT Appliance Service
The professionals at FIXIT Appliance are highly experienced and certified in washer repairs. We service leading brands like Samsung, KitchenAid, LG, Whirlpool, Kenmore, Jenn-Air, Frigidaire, Maytag, GE, Electrolux, Amana, and Sub-Zero.
If your washer isn't working, the best option is to hire a reputable and experienced team to do the job right.
For 24-hour service and excellent customer service, reach out to the experts at FIXIT Appliance Service today.