Appliance Repair Avon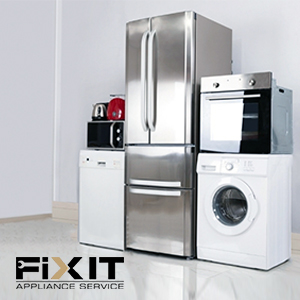 The slightest change in how your appliance is working can indicate the need for appliance repair services in Avon. Any sound, smell, look that is out of the ordinary is a sign that trusted appliance technicians should be brought on-site to take for assessment. The best way to keep your most essential appliances in good condition is to recognize the early signs that you need washer repair, oven/range/stove repair, microwave repair, fridge repair, or dryer repair in Avon.
Signs You Need Kitchen & Laundry Appliance Repair Services in Avon
Strange or New Sounds: Squealing, Clinking, Buzzing, Humming, and Whining are all abnormal sounds. If these noises are new, reach out to a local service for a diagnosis.
Smells or Odours: Unpleasant odours emitted from any of your kitchen or laundry appliances should be cause for concern. If you notice a burning smell, cease use of the appliance, especially in cases of dryer repair in Avon.
Water Leaks: With the exception of microwave and dryer repair, most appliances rely on a steady water supply to function. Leaks can harm the internal parts of the device and the area around your home. Look for pooling around the machine or signs of water damage and call FIX IT Appliance Repair.
Deteriorating Performance: Inconsistent or declining performance of a major appliance is usually a symptom of age. But if the problem is localized, appliance repair services in Avon can help you extend its lifespan.
Unresponsive: An undeniable sign of a problem is that it shouldn't turn on or startup. The problem could be related to your power supply, but if you're only noticing one of your appliances, it's best to call a trusted technician to help you get to the bottom of it.
If any combination of these most common signs becomes apparent, contact your local appliance repair services in Avon, FIX IT Appliance, for a fast and reliable assessment and estimate.
Why Call an Appliance Shop for Kitchen, Washer, or Dryer Repair
The sooner you act on appliance repair in Avon, the more promising the results. The longer appliances run while damaged, the worse the internal problems become. In addition to increased damage, appliances in need of repair can cause utility bills to skyrocket, especially when they have electrical or water-related issues.
When you call a trusted repair service near Avon, you can be sure that you address the problem with a high-quality repair, saving you the cost of excess utilities, appliance replacement, and repeat problems down the line.
Don't DIY Your Appliance Repair.
Especially in the case of dryer repair, malfunctioning appliances can be a danger to the property and its occupants. Improper fixes can exacerbate issues that lead to dryer fires, gas leaks, and water damage. Stay safe, and trust the certified technicians at FIX IT Appliance Service.
3 Easy Steps for Appliance Repair Near Avon
Streamline appliance repair with a fast, reliable response.
Contact FIX IT Appliance: Call, Text, or Email the FIX IT Appliance repair team in Avon. Share what you can of your problem, and we'll get started working on it as soon as possible.
Assessment/Diagnosis: We'll send a trained technician at our first available time slot to take a look at the appliance you're concerned about. We'll diagnose the problem and share our recommended next steps and estimate. We always offer upfront pricing, so there are no surprises.
Appliance Repair: Get back on track with complete appliance repair. Using high-quality materials and industry expertise, your kitchen and laundry appliance will be running the way they should be.
Schedule Appliance Repair Online in Avon, Ohio
Top Ohio Appliance Repair Service for Home, Kitchen & Laundry Appliances.
Avon appliance repair services by Fix It Appliance, a family-owned- and-operated business, is one of the most trusted service appliance repair and services company in Avon, Ohio, and the surrounding areas. We service all major residential appliances from leading brands that includes Kenmore, Samsung, LG, Whirlpool, KitchenAid, Maytag, Jenn-Air, Amana, Electrolux, Frigidaire, Sub-Zero and GE.
Our Appliance Repair Store Avon Can Fix:
Dishwashers
Microwaves
Washers
Dryers
Refrigerators
Range
Oven
Freezer
Garbage Disposal
And more! Call us at 440-512-9091 or Text us at 216-650- 2666 for trusted and quick appliance repair services in Avon, Ohio.
Service Areas:
We service Avon, Avon Lake, Westlake, North Olmsted, Rocky River, Lorain, Fairview Park, North Ridgeville, Bay Village, Strongsville, Lakewood, Parma, Parma Heights, Columbia Station, Berea, Middleburg Heights, Grafton.
If you have any questions about our service areas, please give us a call: 440-512-9091