Dryer Repair Avon
Have you noticed strange odours coming from your dyer? Squealing, banging, or popping noises?
There are many signs that your dryer may need professional attention appliance repair in Avon, Ohio, from incomplete cycles and insufficient heating to the drum not turning and clothes coming out wet. If you notice any of these issues with your appliance, you may need dryer repair or maintenance from a certified technician.
The sooner you get to dryer repair, the less likely you will need to replace your laundry appliances. With the professionals at FixIt Appliance Service, you can get affordable dryer repair near Avon, Ohio. We will assess your damage and provide a flat rate estimate with no hidden fees.
Signs You Need Dryer Repair in Avon, Ohio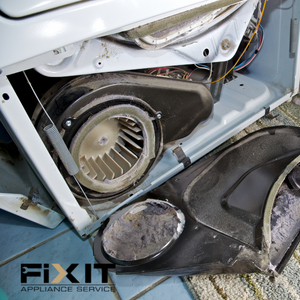 A dryer on the fritz often displays signs that it needs professional attention. Look out for telltale indicators such as when your dryer:
Won't heat up
Won't spin
Won't start
Makes a lot of noise
Turns on and off
There are many causes of dryer repair, which are best identified by professional and experienced appliance repair technicians in Avon, Ohio. Some common sources of dryer trouble include door switches, thermal fuses, dial timers, circuit boards, and so much more.
For a professional assessment of why your dryer is in need of repair, contact FixIt Appliance Service today.
Dangers of Dryer Trouble
When dryer repairs are put off, damage can get worse very quickly, leaving some problems unfixable. In cases like this, you may require complete dryer replacement. At FixIt Appliance service, we offer fast and effective appliance repair in Avon, Ohio, to help you get your laundry appliances up and running as soon as possible.
Left without repair, dryer damage can be dangerous, leading to fires or carbon monoxide leaks. Nearly 3,000 dryer fires are reported across the country every year. Dryer maintenance and immediate dryer repair is the most proactive and effective way to stay on top of your dryer needs and prevent danger. It's always best to leave dryer repair and appliance repair in Avon, Ohio, to certified technicians with the right experience, tools, and expertise.
Why Choose FixIt Appliance Service for Appliance Repair in Avon, Ohio.
FixIt Appliance is a family-owned and operated appliance repair shop that services Avon, Ohio and the surrounding areas.
Affordable Pricing: We provide our customers affordable and transparent flat rates with no hidden fees.
High-Quality Services: We deliver high-quality services from comprehensive appliance inspections, attention to detail, and high-quality parts to offer the best results for all appliance repairs.
Certified Repair Team: Our team of appliance repair specialists in Avon, Ohio, are trained and experienced. We are a recognized Samsung and Frigidaire repair team.
Emergency Services: Dryer emergencies can happen anytime, so FixIt Appliance Repair is available for appliance repair around the clock in Avon, Ohio.
Full Range of Services: At FixIt Appliance Service, we offer more than just dryer repair in Avon. We provide premium appliance repair services for all your major kitchen and laundry appliances.
Contact FixIt Appliance to schedule dryer repair in Avon, Ohio.