Refrigerator Repair Avon
Repair Your Fridge with Skilled Technicians
If your refrigerator is loud, leaking, or not cooling correctly, it can put a stop to your ability to use your kitchen.
An essential appliance, like a refrigerator or freezer, not working as expected is scary. But with expert appliance repair in Avon, Ohio, FIXIT Appliance services can restore your fridge and freezer function.
FIXIT Appliance is a family-owned and locally operated appliance repair company in Avon, Ohio, offering high-quality fridge repair services that are fast and effective.
Does Your Fridge Need Repair?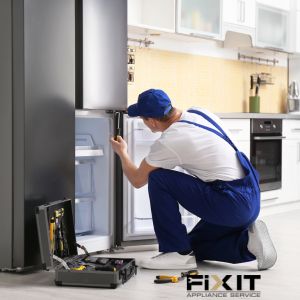 The sooner you recognize the signs that your fridge is on the fritz, the more likely it is that you will save it, sparing the cost of replacement and minimizing inconvenience to your day-to-day life.
Is Your Refrigerator:
Making Strange Sounds?
Leaking or Causing Excessive Condensation?
Not Cooling Your Food?
Causing Your Food to Spoil Quickly?
Too Hot to Touch?
Over 10 Years Old?
Running Excessively?
If you notice any of the signs or other irregularities, call a FIXIT Appliance technician for immediate refrigerator repair in Avon. Our appliance specialists will arrive on-site for emergency appliance repairs quickly to help.
Get Appliance Repair Services Now
Call or Text FIXIT Appliance: Upon receiving a request, we'll promptly dispatch repair technicians to your property in Avon.
Assessment & Diagnosis: Our teams will assess the condition of your fridge and identify the root cause of the problem, formulating an action plan to get your fridge up and running.
Fridge Repair: Once the problem is identified, our appliance repair technicians will fix your broken refrigerator using high-quality materials and our expertise.
Common Causes of Refrigerator Trouble
As fridges age or wear with use, there are some typical problems that can affect them. Based on our experience, the FIXIT Appliance technicians will carefully assess and inspect your fridge to determine the best course of action. If repair is possible, we will share our plan and estimate. If your refrigerator replacement is more cost-effective, our teams will make that recommendation.
Thermostat Irregularities
Dirty or Broken Condensers
Faulty Gaskets
Vent Blockages
Circuit Board Shortages
Because appliances are electrically powered, attempting do-it-yourself refrigerator repairs in Avon is hazardous. For a safe and effective resolution to your fridge troubles, contact a professional you can trust to handle your appliance carefully.
Why Choose FIXIT Appliance Service for Fridge Repair in Avon?
Family-Owned: From our family to yours, we understand the importance of treating your home and appliances respectfully.
Experienced Services: All of our technicians are experienced, offering skilled and certified refrigerator repair.
Cost-Effective Repairs: We know that appliances are significant investments that you rely on. We offer many deals on services and affordable prices, so you can access the work you need.
Emergency Availability: When your refrigerator needs urgent repairs, our teams are available via text or phone lines to provide service seven days a week.
High-Quality Materials: When you choose FIXIT for your refrigerator repairs, you can count on the top-quality materials and component parts to be used in your appliance.
Range of Brands: Specializing in various common household appliance brands, our team offers refrigerator services for LG Appliance, Frigidaire, Samsung, and more.
Get Your Repairs Done Right.