Appliance Repair in Cleveland
Is one of your appliances making a strange sound or emitting an unfamiliar odour?
If you notice the smell of smoke or burning, hear banging or clanking, or discover that something is not working as it should in one of your home's major appliances, then it's likely you need professional appliance repair services.
At Fix it Appliance, we offer fast, affordable, high-quality appliance repair in Cleveland and the surrounding area so you can return your kitchen and laundry rooms back to working order. Return your dryers, washers, refrigerators, and other kitchen and laundry appliances back to working order with reliable appliance repair in Cleveland with Fix It Appliance Services.
What Appliances Do We Repair at Fix It Appliance?
Our team is committed to offering repairs to a wide range of everyday appliances. We understand that this equipment is essential to your household, family, and day-to-day life, so if something is amiss, we are here to help in a hurry.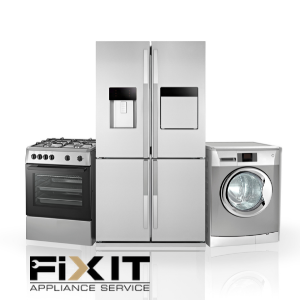 Our team offers repair services to Cleveland homeowners for a variety of appliances:
Dryer Repair
Washer Repair
Range Repair
Stove Repair
Oven Repair
Cooktop Repair
And more!
Appliance Inspections
Before beginning Appliance Repairs in Cleveland, the Fix It Appliance team starts with a preliminary inspection or over-the-phone consultation to diagnose the problem with the machine. If it's a problem that can be solved with a repair, we charge a flat rate instead of hourly fees for our service. If you would be better suited to replace an appliance completely, we will tell you upfront, so you don't waste your time and money on ineffective or recurring repairs.
Appliance Repairs from Fix It Appliance Service
If you need any appliance repair in Cleveland, call the Fix It Appliance team any day of the week. We will respond promptly to provide you with a fast diagnosis and high-quality maintenance so you can extend the lifespan of your appliance.
Why Choose Our Repair Services For Your Appliance?
We are committed to providing our customers with a stress-free experience at Fix It Appliance. As a family business, we don't reduce our customers to a number. Instead, we treat our customers like family. We aim to provide the highest level of service on each call so that you will be satisfied with every step of the repair process, from the customer service, materials, and overall workmanship.
Fair Prices: We offer affordable pricing with no hidden costs. We are upfront about repair costs and charge a flat rate, so you can be confident there will be no surprises later. We also offer a wide range of discounts for referrals, new customers, and seniors.
Quality Materials: To ensure your appliance goes the distance following a repair, we make sure to use only superior quality materials and tools for each of our repairs.
Trustworthy: Fix It Appliance is recognized by Samsung, LG, and Frigidaire as an authorized repair and maintenance team for their home appliances. So when you choose us for your appliance repair needs, you receive reliable, manufacturer-approved service.
Reliable: If you have a question about the condition of your appliance, you can text us around the clock, and we will respond promptly. Our text line is monitored frequently to actively provide you with answers to appliance repair questions 24/. If you have a question, you're not limited to the constraints of "business hours."
Emergency Services
Appliances are complicated equipment. If you need a dryer repair, fridge repair, or range repair urgently, we offer emergency services for appliance repair in Cleveland. You can contact us at any time, and we will find timely availability to repair your appliance promptly. We offer emergency appointment services every day of the week.
For all your Appliance Repair Near Cleveland Choose FixIt Appliance Service
We are committed to providing a complete and positive customer experience for all of our customers, following safety and health protocols. The FixIT Appliance team is here to help serve all your major kitchen and laundry appliances with affordable, reliable, and timely repairs.
Fix It Appliance Service - Appliance Repair Ohio