Dryer Repair Cleveland
If you notice that something's not right with your clothes dryer, it may be time for a professional repair. The truth is, a malfunctioning dryer can actually be dangerous, and repairs may well prevent further damage and additional repair costs. For professional dryer repair in Cleveland (and general appliance repair in Cleveland), FIXIT Appliance Repair provides service calls for all makes and models.
At FIXIT, our technicians ensure a repair process that is straightforward – and that includes emergency repairs. We are a family-owned business offering personal customer service on every repair call. If you postpone a clothes dryer repair, it might be money-saving in the short term, but eventually, proper repairs will be needed to get things on track. In any event, professional repairs are the best approach.
Signs that Something is Wrong With Your Dryer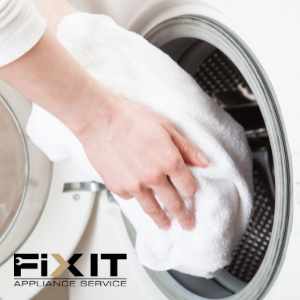 Realistically, every home appliance will break down at some point in its lifespan. To ensure optimum performance, it's essential to keep things in good repair. And to ensure maximum performance, regular maintenance and repairs are a must. In the case of a clothes dryer, good maintenance and repair will ensure performance longevity – with less chance for emergency repairs.
While clothes dryers provide exceptional day-to-day convenience, there are times when problems arise, and a professional repair is needed. There may be a strange smell or a burning odor. The dryer drum might not be properly turning. Or the dryer may simply not be providing enough warm air. If you notice any of these indicators, it's important to get professional dryer repair in Cleveland, as malfunctioning dryers or an attempt at DIY repair can cause more damage or even a fire.
At Fix It Appliance, we are providing discounted maintenance in Cleveland to minimize repairs, ensure dryers remain safe, and to prevent costly complete dryer replacement.
Before Calling For Appliance Repair In Cleveland
Even when repairs are needed, there are a few things to do before calling the professionals. Indeed, it's a good idea to unplug the clothes dryer and stop using it while it's malfunctioning. It's also a good idea to check the associated fuses or breakers for any issues. The fact is, a clothes dryer is a high-voltage appliance, so trying to make do-it-yourself repairs can be dangerous.
Preventative maintenance also has merit with the clothes dryer and most other home appliances. For example, the lint screen should be cleaned regularly. And the exhaust vent should be kept clear and clean to prevent all kinds of problems, especially fires. All things considered, there may well come a time when an expert has to be called to diagnose an issue and recommend the repair work.
Clothes Dryer Repairs From The Experts at FIXIT Appliance Service
When household appliances are malfunctioning, nothing compares with a reliable and reputable service call. For expert dryer repair in Cleveland and general appliance repair in Cleveland, the team at FIXIT Appliance Service provides factory-trained technicians to do the work right.
When urgent repairs are required, the team at FIXIT is available for evening calls and weekend calls. When we install parts, they are guaranteed for a 3-month period, and our repair work is guaranteed for a 1-month period. For our senior citizen customers, we offer a 10% discount.
Contact the team at Fix It Appliance for Urgent Dryer Repair in Cleveland, Ohio.