Washer Repair Cleveland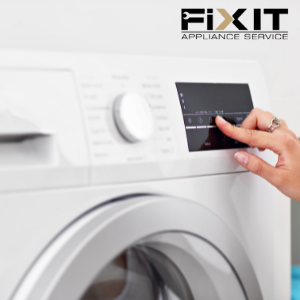 For most of us, washing machines are an integral part of daily life. They last for an average of 11 years and some surpass that, but when things start to falter, the cost of replacement can be a challenge. The good news is that the lifespan of your washing machine can be extended with some professional repairs. For expert washer repair in Cleveland, FIXIT Appliance Repair provides a full-service approach. Our team offers appliance repair in Cleveland for all major kitchen and laundry applainces.
Although the major brand washing machines are built to last, appropriate maintenance allows them to last longer than their predicted lifespan. If you notice signs of trouble, it's a good idea to address those troubles early on. And if you're looking for professional washer repair services, the team at FIXIT Appliance Repair can get your washing machine up and running very quickly.
Signs Your Washer isn't Working Properly
If you suspect that something's wrong with your washing machine, contact the experts at FIXIT Appliance Repair for professional appliance repair in Cleveland. With today's appliances, it's best to have mechanical problems tended to by a professional.
At FIXIT Appliance Repair, our technicians provide expert washer repair services in Cleveland and adjacent communities. We have years of experience with all of the major washing machine brands, including Maytag, Whirlpool, Kenmore, and many others.
Motor Problems: With motor problems, only a professional should be doing repairs (or replacement). Sometimes, an overheated motor just needs time to cool down. But even after it returns to working order, take this as a warning sign that the motor needs attention. Other parts connected to the motor may stop working simply from wear and tear.
Water Pump Issues: Water pumps are typically made of plastic and can therefore break quite easily. A pump can also suffer from a bad seal and which will cause water to drip. Another issue is if the water pump is blocked for some reason. All of these issues will require a professional diagnosis and repair.
Wash Machine Belts: A faltering belt prevents the washing machine tub from moving properly. If the belt is wearing out, it will slip through the pulley system and negatively affect the tub movement. The same situation would apply to a clothes dryer, where the belt system allows the dryer drum to spin effectively.
Seals and Gaskets: When a gasket or seal goes bad, it will definitely need replacement. Most gaskets are designed to keep water from leaking out, and this is especially true of a front-load washer, which has a front door that must be sealed. As basic as it seems, professional replacement is required here.
Code Errors: Newer washing machines contain numerous electronic sensors, and when a code error pops up, it can be somewhat distressing. While the code error might be explained in the appliance manual, you'll still need an appliance professional who understands sensors and can find a suitable fix.
Homeowners who require professional washer repair services in Cleveland (or general appliance repair in Cleveland) can count on the specialists at FIXIT Appliance Repair for the most reliable repair work as well as excellent customer service.
Contact FIXIT Appliance for fast washing machine diagnosis and repair in Cleveland, Avon, Westlake and the surrounding areas.