Dishwasher Repair Avon
Has your dishwasher been leaking when you run a load of dishes?
There are many signs that you may need a professional to perform a dishwasher repair in Avon. Whether it's leaking, making strange noises, or not cleaning your dishes properly - we have a solution for you. If you notice any of these issues with your dishwasher, you may need an appliance repair in Avon.
The sooner you get a dryer repair done, the better. With the professionals at FIXIT Appliance Services, we offer affordable prices near Avon, Ohio - providing our customers with the best care. We assess the damage to your appliance and provide a flat rate estimate with no hidden fees.
Signs You May Need a Dishwasher Repair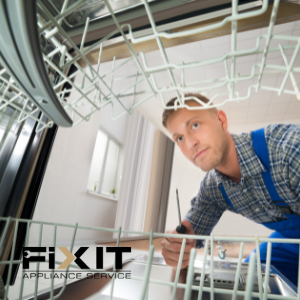 There are several indicators that your dishwasher may be having problems working correctly. Most issues involve the water connection, the appliance not functioning, and the quality of the dishes after washing. If you notice any of these problems, call or text the FIX IT repair team to ensure you get the necessary service.
Your dishwasher is failing to turning on
Your dishwasher is leaking while it's running
The water is not completely draining
The water is not properly filling
Your dishes are not cleaned thoroughly at the end of a cycle
Excessive or strange noises (buzzing, clanking, etc)
Water won't heat up
The washer is not distributing the detergent properly
With trusted experts providing service in Avon, you can feel at ease knowing that we provide the best possible service at great prices.
Save yourself the time and money of buying a new dishwasher. Instead, reach out to the FIXIT Appliance Services team to restore your dishwasher to brand new. Our team of professionals will:
Conduct a thorough diagnosis of the appliance.
Recommend the next steps for the best results.
Repair your appliance with high quality materials and workmanship.
Why Choose FixIt for Your Dishwasher Repair in Avon
FIXIT Appliance Services is a family-owned business operating around Avon, Ohio. We prioritize our customers, providing the best repair services possible.
Affordability: You shouldn't have to pay for overpriced appliance repair services in Avon. We provide affordable pricing and discounts for new customers, seniors, and referrals.
Emergency Services: Appliance breakdowns can happen at any time of the day or night, which is why we offer urgent repair services for those with an emergency - even if it's a weekday evening or weekend - we're here to help.
Certified Repair Team: At FixIt, we are a team of creditable technicians who do appliance repair service in Avon, Ohio. We are a team that you can trust to provide you with premium appliance repair services for any dishwasher you may have.
Materials: We only use the best, high-quality materials when repairing your appliances. We know how expensive appliances can be, so we use exceptional tools and products. In addition, we offer a 3-month parts guarantee.
Do you have a dishwasher that needs fixing that you've been holding off on?
Contact FIXIT Appliance to schedule your dishwasher repair in Avon, Ohio, today!