Refrigerator Repair North Ridgeville
Is your broken refrigerator inconveniencing you and costing you time?
Every minute with a broken refrigerator can be costing you time, money, and groceries. Whether there's a slight or drastic change in your refrigerator, it could indicate that you need to schedule an appliance repair in North Ridgeville.
Respond to strange sounds, odors, or trouble fast to get your refrigerator running again and to prevent damage from getting worse.
The professionals at FIXIT Appliance Service have years of experience and expertise in refrigerator repairs for various brands, including LG. Our team of technicians provides reliable LG refrigerator repair services, so you can get your fridge up and running in no time.
At FIXIT Appliance, we know how important essential appliances are - that's why we provide fast and effective same-day appliance repair services in North Ridgeville.
Signs You Need Your Refrigerator Repaired
By knowing the early signs of a malfunctioning refrigerator, you can salvage your appliance and save yourself the costs of getting a replacement. Perhaps your fridge is leaking, or you have a faulty gasket - whatever the case, the certified technicians at FIXIT Appliance Service are here to provide trustworthy and cost-effective LG refrigerator repair services.
Below are some of the signs that your refrigerator needs to be repaired by a professional.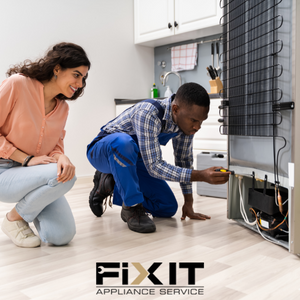 Not Staying Cold: Are your food and drinks going bad before the expiration date? Your refrigerator most likely cannot maintain a cold internal temperature, or there's a specific problem with the motor or gasket. Keeping your fridge cold is crucial to be able to eat perishable foods and refreshments without getting sick, and when your refrigerator malfunctions, it can be frustrating to waste the food that has gone bad. Contact the experts at FIXIT Appliance Service for quick response times and repairs.
Condensation: Does it look like the outside of your refrigerator is "sweating" with condensation? This symptom typically means there's an issue with your seal or gasket. Refrigerator door seals are critical for keeping cold air inside and warm air out. Broken seals lead to cold air leaking out, excess energy usage, spoiled food, and high energy bills. The team at FIXIT Appliance Service can effectively repair your refrigerator seal and get your fridge running smoothly.
Strange Noises: Any unusual or loud noise from your appliances should be a cause for concern. If your LG refrigerator is extremely loud or in complete silence when running, it could indicate that the motor is overworked and not regulating an internal temperature needed for the fridge, causing it to not run efficiently.
If you notice any of these signs from your LG or other branded refrigerator, it's essential to contact the experts at FIXIT Appliance Service for a fast and effective appliance repair in North Ridgeville.
Expert Refrigerator Repairs in North Ridgeville
At FIXIT Appliance Service, we use advanced, high-quality equipment that sets us apart from our competitors. With cutting-edge technology and experience, our technicians can quickly detect, diagnose, and repair your refrigerator.
Contact FIXIT Appliance Service for professional refrigerator repairs in North Ridgeville.