Is Washer Repair Worth It?
When your washing machine breaks down, you'll have to decide whether to call a professional for washer repair in Avon or buy a replacement washing machine. On average, washing machines last between 10-13 years, but with proper maintenance and care, appliance repair services can extend the lifespan of your laundry machines.
When you call FIXIT Appliance to inspect and diagnose your washing machine, our team will make a careful and thorough evaluation and recommend replacement or washer repair in Avon based on our findings. We will always provide upfront pricing and give you the best course of action for your case.
When to Get Appliance Repair Services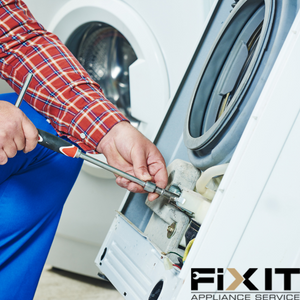 Many issues with washing machines can be fixed with appliance repair services. If you have had your washing machine for less than 10 years, contact FIXIT Appliance directly, so our technicians can get your laundry appliances back in action. Some signs you need washer repair in Avon, Westlake, North Olmsted, and the surrounding areas include unusual noises (squealing, banging, clanking etc.), overflowing drums, or a drum that doesn't fill, leaks, power not turning on, or the door won't close properly.
Washer Repair with FIXIT Appliance
Find out what is best for your home with FIXIT Appliance and our high-quality washer repair services in Avon. Our team offers affordable pricing using high-quality materials and reliable scheduling.
Have a Question About Washer Repair in Avon, Ohio?