Do I Need Oven Repair or Replacement?
When your oven breaks down, you might rush to get a replacement, but sometimes an oven repair can get your range back up and running in no time.
If you notice your oven is not working well but still working, you may not need to purchase a whole new oven. Instead, you can fix the problem with oven repair. FIXIT Appliance Service has the necessary tools and experience to repair any range. With affordable prices and professional workmanship, you can feel confident that your oven functionality is up to par.
Oven Repair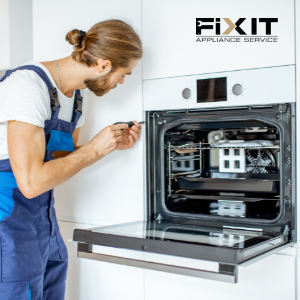 Below are some signs that your oven needs appliance repair services.
Strange odors
Display issues
The door won't close properly
Noises/Vibrations
Burners won't turn on/off
Cold/undercooked food
Oven Replacement
If you have had constant issues with your oven and appliance repair services are needed too frequently, it's likely time for a replacement oven. FIXIT offers a complete, honest assessment to prescribe your best option. We recommend getting a replacement if you are considering a repair for a range 15+ years old.
Signs your oven needs a replacement:
Past its lifespan (over 20+ years)
Multiple problems
The oven doesn't work at all
You have gotten repairs in the past, but still no luck
Not certain about which option is right for you?