What to Do When Your Dryer Won't Start
Posted on October 09, 2023
If you've ever filled your dryer with wet laundry only to find it won't turn on, you know how frustrating a broken dryer can be. A broken dryer is more than just an inconvenience. It's a challenge, especially in the colder weather when hanging a line is just not a viable option. If you're unable to finish your laundry cycle because of a dryer that just won't turn on, reach out to the experts for appliance repair in Avon. At FIXIT Appliance, our technicians are skilled at providing thorough dryer repair in Avon, Westlake, North Ridgeville, and the surrounding areas. To get your dryer up and running again, contact us.
For more insight on what to do when your dryer won't start, read on.
What Causes Dryer Not to Start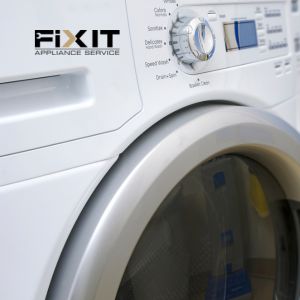 A dryer that won't turn on can be the result of several issues. While in some cases, the fix may be as simple as a door that isn't closing property, you'll usually need a professional for diagnosis and appliance repair in Avon. At FIXIT Appliance, our technicians will look closely at the condition and performance of your machine and determine the best approach to dryer repair in Avon.
Some of the most common reasons a dryer won't start are as follows:
No Power: Electric dryers run the cycle using a power source. In some cases, the malfunction could be as simple as the appliance not being correctly or fully plugged into the outlet. It could also be a blown fuse or circuit breaker. If there is still no power after checking on the breaker, fuse, and outlet, you may have a more serious problem. When it comes to electrical sources, it's always safest to leave them in the hands of trained professionals who know how to navigate the situation carefully and effectively.
Door Switch: For your dryer to run, the door must be closed. If your door switch is not working, your cycle won't start. In some cases, an overloaded dryer drum can inhibit the control, but at other times, the issue can be a faulty part or wear and tear of the switch.
Start Switch: To activate your load, you must press the start button, but when that malfunctions, your dryer won't start. If there is a disruption in the connection between the switch and the other inner mechanisms of the machine, you will find yourself in need of professional dryer repair in Avon.
Cycle Timer: When a dryer timer isn't working, it can completely stop your cycle from starting. There are a number of causes of a broken timer, including a malfunctioning thermostat or trouble with heating elements. If you need a part replacement, our team at FIXIT Appliance will provide you with the best quality materials available to restore long-term functionality.
Dryer Motor: Motors are responsible for the functionality and performance of any machine that has one, including your dryer. The motor may stop entirely if there is a problem with the wiring, start switch, or blockages.
What to Do When You Need Dryer Repair in Avon
When your dryer won't start, it's safest to consult with professionals to minimize damage and get your appliances back into working order. At FIXIT Appliance, our technicians will provide prompt and comprehensive appliance repair services in Avon and the nearby areas so you don't have to let a broken dryer slow you down.
Is Your Dryer Not Running?