What to Do About Rust & Your Dryer?
Posted on August 15, 2023
Your dryer is a workhorse, that is undoubtedly the most used appliance in most American homes. When operation dryers bring ease and convenience to everyday life, but when they inevitably break down it can cause frustrating disruptions to routine. With wear and tear, installation mistakes, or misuse rust can form and require dryer repair in Avon. When faced with rust, the problems can seem aesthetic at first but as it advances, you may find yourself in need of appliance repair in Avon with FIXIT Appliance Services.
Read on to learn more about what to do when you dryer starts to show signs of rusting.
Causes of Rust on Dryers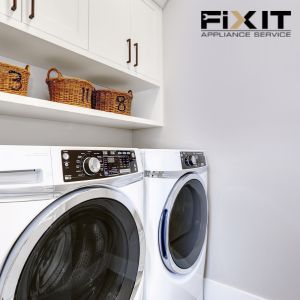 Rust is the result of a chemical reaction between iron, oxygen, and moisture. Dryers are exposed to moisture regularly, especially when clothes are being dried. This moisture, if not adequately managed, can accumulate and cause rust to form on the surface of the dryer.
Another cause of rust can be external factors like humidity levels in your laundry room. If the room lacks proper ventilation, humidity can build up, increasing the likelihood of rust development on metal surfaces.
How to Deal with Rust
Regular Cleaning and Maintenance: Prevention is key. Regularly clean your dryer's drum and other metal parts using a damp cloth. Ensure that no moisture is left behind. Keeping your dryer clean and dry will significantly reduce the chances of rust formation.
Immediate Repairs: If you notice any chipped paint or scratches on the dryer's surface, address them promptly. These vulnerable areas are prime spots for rust to begin. Apply touch-up paint to seal the metal and prevent moisture from getting in.
Ventilation Improvement: Ensure that your laundry room is adequately ventilated. Proper airflow can help control humidity levels and minimize moisture accumulation around your dryer.
Silica Gel Packs: Inserting silica gel packs inside your dryer drum helps to absorb excess moisture that would otherwise contribute to rust and mold. Remember to replace them regularly to maintain their effectiveness.
Rust Removal: If you notice rust forming, it's essential to address it promptly. Gently scrub the affected area with a mixture of baking soda and water. Rinse and dry thoroughly. You can then apply a rust converter or primer to prevent further rusting.
Appliance Repair in Avon: When rust has become extensive or is affecting the functionality of your dryer, seeking professional help is a smart move. Experienced technicians in Avon can assess the extent of the damage and provide effective solutions. If you're looking specifically for dryer repair in Avon, these professionals have the expertise to address rust-related issues and restore your dryer's optimal performance.
Prevention for the Future
Once you've dealt with rust on your dryer, it's essential to implement preventive measures to avoid future occurrences. Regularly inspect your dryer for any signs of rust or vulnerable areas. Keep the drum and surfaces clean and dry, and consider using rust-resistant coatings to provide an extra layer of protection. FIXIT Appliance Service offers reliable and comprehensive dryer maintenance services which can help minimize calls for appliance repair in Avon.
Reliable Appliance Repair Services in Avon, Ohio
A rusting dryer might seem like a daunting issue, but with the right approach, it can be effectively managed and prevented. By following these practical steps and seeking professional appliance repair in Avon with FIXIT Appliance Service, specifically for dryer repair in Avon, you can keep your dryer running smoothly and extend its lifespan. Remember, a little maintenance today can save you from bigger headaches down the line.