How to Manage Appliance Leaks with Expert Repair Services
Posted on July 27, 2023
Unexpected appliance leaks are more than just a headache for homeowners. Without intervention with professional appliance repair in Westlake, leaks can wreak havoc on the home. From the slow trickle of water accumulating around a washing machine to a pool of water sitting underneath your refrigerator, leaking or overflowing appliances can cause damage to neighboring equipment, water damage, and even mold in your home. When faced with a leaking appliance, fast action is the best response. Seek professional appliance repair services from a trusted professional. Whether you need washer repair in Westlake or fridge repair, the certified and experienced technicians at FIXIT Appliance offer fast emergency repairs to get your vital appliance up and running as soon as possible.
Here's what you need to know about appliance leaks and how to solve them fast with reliable washer and refrigerator repair in Westlake.
Dangers of Leaking Appliances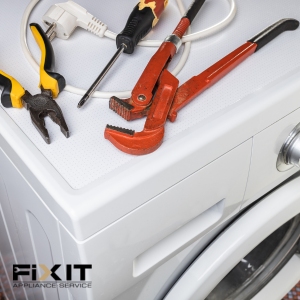 When your refrigerator or washing machine starts to leak, there are several risks that should be addressed, including immediate damage to long-term consequences. The most immediate threat is water damage to the appliance and surrounding areas. Water damage is a homeowner's worst nightmare because of the damage it causes and the secondary damage it can cause to nearby materials. Prolonged exposure to water can result in wood rot, warped flooring, damaged tiles, and even mold outbreaks. Since most appliances are installed near one another, water leaking from one can cause interruptions and damage to circuits of neighboring appliances and sockets.
If water leaks internally or the leaks persist over time, critical machine parts can become corroded, rusted, or otherwise broken, damaging circuits, ultimately reducing the efficiency or stopping the functionality of the washer or refrigerator overall. In many cases, a water-damaged appliance can void warranties, so it's imperative to get the support of a trusted technician specializing in washer or refrigerator repair in Westlake. Expert appliance repair companies can accurately diagnose the cause of the leak, provide effective repairs, and offer preventive maintenance to prevent further issues. Dealing with leaks is not a DIY project; it requires the expertise of professionals to ensure a safe and reliable resolution.
Tips for Identifying Appliance Leaks
The best way to prevent long-term damage from leaks is to contact an appliance repair service near Westlake as soon as you identify a sign of a problem. This can mitigate the cost of repairs and eliminate secondary damage altogether. Some common indications of leaks include noticeable amounts of water pooling around your washer or refrigerator. You may also hear unusual sounds like gurgling or hissing, which could indicate a problem with plumbing elements and water hoses. If you smell a pungent musty odor, there is a good chance that water damage behind your fridge or washer has attracted mold and needs professional cleaning. Reduced performance or efficiency is typically the least apparent sign of an appliance leak. You may notice changes in the ability to clean or cool. Still, it's best to verify by consulting with a technician who understands the intricacies of refrigerator and washer repair in Westlake.
Call the Trust FIXIT Appliance Repair Services in Westlake
FIXIT Appliance Service is a trusted and experienced appliance repair service in the Westlake area. With years of experience serving the community as a locally-owned family business, property owners can count on our team for comprehensive and affordable repair services.