How to Avoid Floods with Dishwasher Repairs in Avon
Posted on August 09, 2022
A dishwasher can be a beneficial tool to have in your home. It helps your household move faster and more efficiently, giving you more time to do the things you enjoy. However, when dishwashers break down, it can be a total disaster; dishes pile up, messes persist, and everything gets chaotic. To save yourself the hassle and keep your dishwasher running smoothly, pay attention to signs that you might need dishwasher repair in Avon. You can count on the FIX IT Appliance team for any appliance repair in Avon.
Read on to learn how to avoid flooding on your property.
Signs Your Dishwasher Needs Repair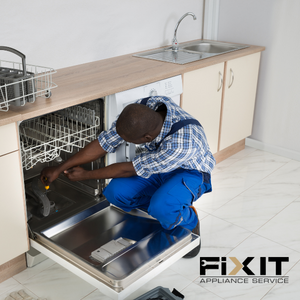 You should see certain things before you involve your local appliance repair team for an appliance repair in Avon. If you find you constantly have to clean up the water around your dishwasher, that can be a sign that you have a persistent leak. Likewise, if you find your dishwasher consistently giving you error messages, it might be time to call your local Avon dishwasher repair experts at FIX IT Appliances.
What Causes Dishwasher Leaks
There are a plethora of reasons why your dishwasher might be leaking. Some common causes include:
A faulty gasket
Using too much detergent
Overloading dishes
Cracks or blockage in the spray hose
The drain hose has a loose connection
Why Dishwasher Leaks are a Problem
Of course, dishwasher leaks can be an inconvenience, your dishes just aren't clean enough, and your floor is soaked. But did you know that they can also cause mold growth and water damage? A consistent leak in the same spot can create the perfect combination of heat and humidity that mold loves. That's why it's better to address the issue sooner rather than later when it comes to a leaky dishwasher.
How to Prevent Dishwasher Flooding in Your Kitchen
You can employ a few more straightforward solutions when using your dishwasher to avoid causing leaks. Avoid overloading the dishwasher, even if that means doing two loads instead of just one. Similarly, ensure you're not using too much dishwasher detergent and that you're using the type of detergent compatible with your dishwasher.
If you feel your dishwasher's issues are more complicated, it might be time to call the professionals. Regarding dishwasher repair in Avon, getting an expert team like the one at FIX IT Appliance can make a huge difference. Experts can more knowledgeably inspect your appliances and streamline the repair process.