What is Causing Washing Machine Leaks?
Posted on October 27, 2023
Washing machines leaks can cause a number of problems for homeowners. Not only do leaks from a washing machine negatively affect the efficiency of your laundry routine but it can cause damage to nearby building materials and mold outbreaks. If you notice leaks around your laundry machines, fix the problem fast with washer repair in Westlake. The team at FIXIT Appliance offers reliable and comprehensive appliance repair in Westlake, North Ridgeville, and Westlake.
In this blog, we will address the causes of washing machine leaks and what to do about them.
Where Do Washer Leaks Come From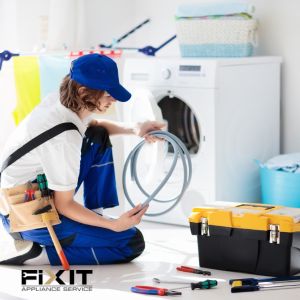 Washing machine leaks will appear as puddles on the laundry room floor which can be the result of problems with a number of mechanisms including failing door and seal gaskets, broken host connections which are responsible for the water inlet that supplies the washing machine. Water leaks around the washing machine may also be caused by drain pump brokens which are used to remove water after the washing cycle. Cracks or misalignments in the detergent dispenser can also allow water to escape during the wash cycle. Blockages, cracks, or loose parts that trigger washing machine leaks mean you need appliance repair in Westlake with FIXIT Appliance. Our team will help you replace faulty parts and broken functions so you can minimize the need for future washer repair in Westlake.
Overloading
One of the most common mistakes people make is overloading their washing machines. While it may seem like a time-saving strategy to cram as many clothes as possible into a single load, this can cause excessive strain on the machine's components. Over time, overloading can lead to issues such as unbalanced loads, increased wear and tear, and even motor burnout. To avoid these problems, it's crucial to follow the manufacturer's guidelines regarding load capacity.
Clogged Drains and Filters
Over time, lint, debris, and foreign objects can accumulate in your washing machine's drains and filters. This buildup can obstruct the flow of water, affecting the machine's performance. If you notice your washing machine is not draining properly or is giving off a musty odor, it might be time to check and clean the drains and filters. Neglecting this maintenance can lead to more serious problems down the line, necessitating washer repair in Westlake.
Unbalanced Loads
An unbalanced load inside your washing machine can lead to excessive vibrations during the spin cycle. These vibrations can cause the machine to shift and even damage its internal components or the surrounding area. Unbalanced loads are typically caused by an uneven distribution of clothing within the drum. To prevent this issue, be sure to distribute your clothes evenly before starting the washing cycle.
Using the Wrong Detergent
The type of detergent you use can impact your washing machine's performance. Using too much or the wrong type of detergent can lead to a buildup of residue and soap scum, clogging the machine's internal parts. This can result in poor washing results, strange noises, and a shorter lifespan for your appliance. Always follow the manufacturer's recommendations for the right detergent and its quantity.
Neglecting Routine Maintenance
Like any other appliance, your washing machine requires regular maintenance to stay in optimal condition. Neglecting basic maintenance tasks, such as cleaning the lint filter, checking hoses for leaks, and inspecting the machine for loose or damaged parts, can lead to various issues. Over time, these problems may require appliance repair in Westlake.
Water Supply Issues
In Westlake and many other areas, water supply issues are a common cause of washing machine problems. If the water inlet valve is clogged, leaking, or not functioning correctly, it can lead to insufficient water supply or even flooding. If you notice any water-related problems with your washing machine, it's crucial to address them promptly to avoid further damage.
Washer Repair Services in Westlake
Don't let a leaky washing machine get in the way and cost you money. Save time and minimize stress with affordable, reliable, and responsible appliance repair services in Westlake at FIXIT Appliance Repair.