Telltale Signs That Your Appliance Needs Professional Repairs    
Posted on September 09, 2021
As your appliances approach their ten-year mark, they have the potential to falter. The good news is that many appliances can be effectively repaired and their lifespan measurably improved. If you're a homeowner looking for a reliable appliance repair shop in Ohio, you would do well to choose FIXIT Appliance Repair for a full-service approach.
For dishwasher repair, dryer repair, range repair, oven repair and more, FIXIT Appliance Repair will get your appliances working right. Our technicians have years of experience and expertise with all the major brands – including Whirlpool, Maytag, and Kenmore. More than that, our excellent customer service ensures a totally stress-free experience.
Major Household Appliances Break Down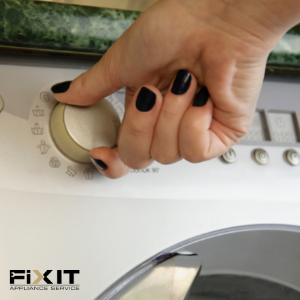 The truth is, even today's well-made appliances can suffer from a mechanical malfunction. The key is to notice the signs or symptoms of a problem as early as possible. That way, repairs can be provided, and you can easily avoid the high cost of complete appliance replacement.
If you sense that an appliance is malfunctioning, professional attention may be required. As a reputable appliance repair shop in Ohio, FIXIT Appliance Repair provides services throughout the Cleveland area for dishwasher repair, dryer repair, range repair, oven repair and more. We'll start off with an in-depth inspection of your appliance.
High Utility Bills
This particular warning sign is most typical for gas appliances like ovens and stoves. It's because malfunctions with these appliances will cause them to perform less efficiently, therefore consuming more energy. Simply put, less performance efficiency means more energy used and high energy bills.
Leaking Water
A water leak (even a small one) from a fridge, dishwasher, or washing machine, shouldn't be ignored. In fact, a small water leak is likely to get worse, and there's even potential for mold to develop. Most of the time, a water leak results from a damaged seal that is part of the appliance's drainage system.
Burning Smell
Needless to say, a burning smell (or smoke) should not be emanating from a household appliance. Clothes dryers are particularly prone to this malfunction as they operate with heat. However, burning smells are usually indicative of an appliance where a component is overheating (like electrical wiring).
Unresponsive
When an appliance does not turn on, there are a couple basic things to check out. First is to make sure the appliance is plugged into a wall outlet and not into a power strip. Second thing to check is that the appliance didn't trip a fuse or circuit breaker. Then it might be time for a service call.
Poor Cleaning
If a dishwasher or washing machine is not doing its job, there's likely a malfunction that will require an inspection and possible repair work. Fiddling with the various controls may not be the answer. Poor cleaning performance is a sure sign that your appliance simply is not working as it's intended.
Heating/Cooling
With fridges, ovens, and ranges, cooling and heating are primary to performance. A refrigerator that isn't keeping things cool (or frozen) requires repair. An oven or range that isn't heating food is also in need of repair. In many cases, repairs will improve lifespan while avoiding the need for a new appliance.
Once one of our trained technicians presents a diagnosis, we work diligently to provide fast, high quality repairs.
Contact FIXIT Appliance to diagnose your major home appliances today across all the major cities in Ohio, including Cleveland, Avon, Westlake, North Olmstead and more.