Is the Way You're Doing Laundry Causing Dryer Damage?
Posted on July 16, 2023
Despite being such an integral part of household routines, a lot of mystery shrouds the act and practice of laundry. For many people, the process of washing and drying clothes is one that has been passed down from generation to generation. But with more information available and the understanding of dangers related to laundry appliances, more people are looking at their approach to laundry and considering whether they're doing something to exacerbate the need for dryer repair in Avon. If you're concerned about your machines, contact FIXIT Appliance service for professional appliance repair in Avon and the nearby areas. Our team provides expert care and guidance so that you can minimize damage, hazards, and appliance repair costs.
Read on to learn more about optimizing your laundry routine to prevent washer and dryer damage.
Filling Your Laundry Machines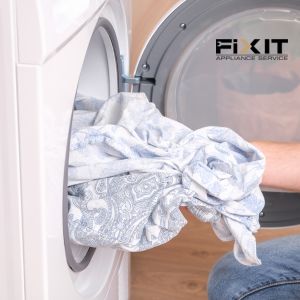 Some people sort their laundry by color to prevent bleeding and fading. What this also does is help reduce the size of an individual load being put into your washer or dryer. But many people will load all their colors together to wash a mega load of laundry. The washing machine and dryer drums (the area of the appliance that holds the clothes) have a capacity that should be followed closely. The general rule of thumb is that you should be able to fit your hand into the drum of the washer or dryer. If there is insufficient space, then you've overloaded the machine. What you'll notice as a result is that your drum will not spit effectively, which can damage the interior motors. You'll see that when you pull your items out of the washing machine, they're either not very wet or not much cleaner than when you first added them.
On the other hand, a dryer that is too full will result in damp clothes. If your washer and dryer are not spinning or you hear clanking or squealing noises, you should contact your trusted appliance repair company in Avon. Our technicians will help repair the problem before the damage gets worse.
Managing the Use of Fabric Softener
Fabric softener has been up for debate in recent years; while it adds a fresh aroma to your clothing, it can leave you needing maintenance or washer repairs. Fabric softener covers clothing in a washing machine with a waxy coat. When overused, it can lead to wax buildup that interferes with drainage in the drum and drain tubes, which will eventually affect future laundry cycles. Being wary of your fabric softener use can mitigate the need for appliance repair in Avon and keep your washing machines running longer.
Clean Out Your Dryer Lint Trap
Often the most neglected part of laundry day is the lint trap. While many people heed warnings about the dangers of the lint trap, it's easy to forget to clear it. It's recommended that the lint trap is cleared after every cycle to ensure that lint backups don't occur. When lint is left to build up, it can trap heat and water vapor by blocking the exhaust vents, which leads to overheating dryers and significantly increases the risk of combustion. To ensure critical damage is avoided and to minimize the risk of house fires, FIXIT Appliance offers dryer maintenance programs as well as dryer repair in Avon.
Washer & Dryer Repairs in Avon, Ohio
If you determine that your laundry appliances are not working as they should, don't wait to call a professional repair service. At FIXIT Appliance, we offer affordable and reliable repair services for all your kitchen and laundry appliances.