How to Respond to Appliance Problems During the Holidays
Posted on December 12, 2022
The holiday season is often the worst time of the year to realize you need appliance repair near Avon. With calendars booked with holiday events, getting your dishes washed, meals cooked, and clothes cleaned ahead of your parties and gatherings is key to a smooth holiday season. Despite the inconvenience, a broken fridge, dryer, or oven doesn't mean your plans need to be canceled. With reliable appliance repair in Avon from FIXIT Appliance, you can get fast, high-quality repair services for kitchen and laundry appliances.
Here's how you can respond to problems around your home with laundry and kitchen appliance repairs in Avon, Ohio, with FIXIT Appliance. We specialize in high-quality appliance repair including LG refrigerators.
Be Careful with Where You Put Your Decorations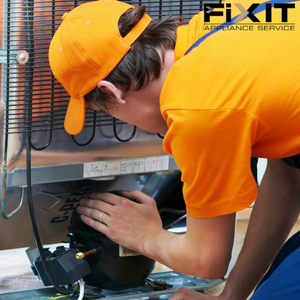 Indoor decor is a key part of the holiday season. From garlands and wreaths to lights and knick-knacks, there are a lot of different items used to adorn the home during the winter. Flammable fabrics can send stove tops and ovens to ignite, damaging your range. FIXIT Appliance offers oven and range repair services in Avon and nearby areas 7 days a week to give property owners across the city the ability to maintain the use of their kitchens. When you call our appliance repair near Avon, we will carefully inspect your oven, stove, or range to determine the best repair option.
Be Careful with Your Laundry Loads
With lots to do during the holidays in terms of social commitments, it is not unusual to go through more laundry this time of the year. As you move through more clothes and linens, you may notice your laundry accumulating faster than usual. To avoid the need for appliance repair in Avon, be careful not to overload your washer or dryer drum. Overloaded drums are often why property owners in the city contact FIXIT Appliance Repair in the Avon area. There are many mechanisms that work behind the drum that cause it to move and clean or dry your clothing, from bearing balls and belts to motors. When too much pressure or strain occurs within the drum, you will likely realize your clothes are not being cleaned effectively, requiring washer and dryer repair.
Check Your Dryer's Lint Trap
When your dryer's lint trap is not cleaned out in a timely fashion, the buildup can quickly block exhaust events. As the lint increases, so does the risk of fire, which would put a damper on the holiday season. Properly caring for your lint trap and clearing vents will preserve the longevity of your appliances. If you notice that your dryer is taking longer to fully dry your clothes, appliance repair near Avon from FIXIT Appliance Repair services can enhance the functionality of your laundry appliances. We also offer an affordable dryer maintenance program that will provide preventative care for your dryer preventing breakdowns or trouble in the future.
Holiday Appliance Repair Services in Avon
Don't let appliance repair in Avon stress you over the holiday season. Stay upbeat during the holidays with fast, trusted, and reliable repair services for kitchen and laundry appliances. For LG refrigeration repair and all your appliance repair needs in the Avon area, reach out to the team you can trust.