How to Repair a Gas or Electric Range
Posted on September 21, 2022
When your gas or electric range isn't working, it can be a real burden. Your range includes the most essential kitchen appliances for cooking your favorite meals, and when it malfunctions, it makes cooking food difficult. Because the ability to cook is vital, many homeowners will attempt appliance repair in Westlake on their own before contacting an appliance repair service. While a quick fix can get your gas or electric range back, for the time being, it's always best to contact FIXIT Appliance for reliable and high-quality range repair services in Westlake, Avon, and the surrounding areas.
Here is what you need to know about DIY electric or gas range repair.
Before Calling a Professional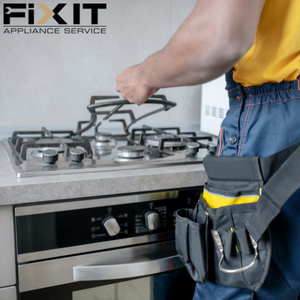 When the use of your range is affected by more minor mechanical problems, like a door that won't close or a light that is burnt out, you can attempt appliance repair in Westlake on your own. But if you can't make progress, FIXIT Appliance is here to help with trusted range repair services. Our technicians use high-quality materials, offering affordable and upfront pricing so you can get your range working sooner rather than later.
The Oven Door Won't Close
When your oven isn't closing, it's not safe for use and won't cook your food efficiently. Before calling a professional, try these steps. Before attempting any work, it's essential to be safe and start by unplugging your oven and turning off the gas, if applicable.
Pull the door up and out to remove it from the oven, and if it doesn't release, unscrew any screws.
Check for broken hinges and door springs and replace them if needed.
Remove any broken springs with pliers, replace them, and rewrap the ends of the new springs around the bolts.
Replace the door gasket.
If the oven door still doesn't shut, it's time to contact the professionals at FIXIT Appliance Service.
The Interior Light Is Out
Interior range lighting allows you to see how your food is cooking without disrupting the process. When the light goes off, you can try simply replacing the bulb – a fast solution that usually gets the job done. However, if changing the bulb doesn't get the light to work, there could be a more significant issue at play with the wiring of your range. Electrical problems are a job for professionals. Don't take a risk. Instead, reach out to the FIXIT Appliance team,
Your Range Won't Heat Up
Regardless of whether you have a gas or electric range, the stovetop and oven heating elements are essential but tricky to repair when something goes wrong. If you can't preheat your oven or light your stove, it's best to get professional appliance repair in Westlake. Mistakes with the wiring can create serious problems. Call FIXIT Appliance. Our team is available seven days a week in Westlake, Avon, and the surrounding areas.