How To Know if Your Gas Dryer Needs Repair
Posted on December 10, 2021
Appliance repair services in Avon are frequently called in for finicky dryers. There are two types of dryers homeowners may install: an electric dryer or a gas dryer. While they offer the same result, electric dryers are more popular due to the low cost and easy installation. On the other hand, gas dryers are considered more efficient at drying and more cost-effective to run since gas is less costly than electricity. Due to their lack of popularity, a faltering gas dryer is a trickier situation for the average homeowner when they realize they require dryer repair in Avon. More often than not, a do-it-yourself approach is not applicable, and homeowners in the city will need skilled appliance repair services in Avon.
If you notice that your gas dryer isn't working correctly, FixIT Appliance provides a full range of kitchen and laundry appliance repair services in Avon, Ohio. We offer affordable pricing and high-quality work, so you can get your dryer up and running in no time.
Use these signs to identify whether you need to call the professionals for dryer repair in Avon.
Not Heating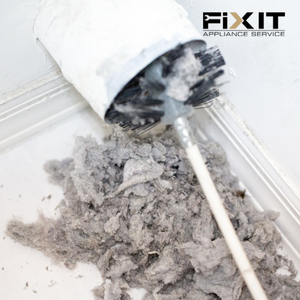 The entire value of a dryer is based on its ability to heat up efficiently and dry fabrics. If you notice that your gas dryer is not getting hot enough, you'll likely need to reach out to your local appliance repair shop. You'll see your dryer is not heating up properly if you need to run it longer than expected to get clothes dry or if loads are simply not drying at all. It's essential to get freshly washed clothing dry as soon as possible to avoid mildew from contaminating it. A gas dryer that's not heating up is likely the result of a clogged vent or an issue with gas flow. Don't keep trying to run your dryer. Contact FixIT Appliance for a consultation.
Mold & Mildew
Mold and mildew outbreaks around a dryer are typically caused by improper installation, especially the vents. Dryer vents should always be installed to direct exhaust outside. When directed inside, exhaust compromises air quality and releases excess moisture into the air.
When purchasing a new appliance, it's crucial to ensure that experts install it properly. Appliance manufacturers typically will not cover dryer repair in Avon for incorrectly installed machines. Unfortunately, their more complicated install with gas dryers leads to more damage when not done well.
Not to worry, if your home appliances have suffered due to install issues, the team at FixIt Appliance will assess the damage and help you get it back into working order before it can get worse.
Unusual Noises
An unexpected noise emitted from your home dryer is an ambiguous sign that can be hard to connect individually to any one issue and is best handled by a reputable appliance repair service in Avon. You might hear anything from squealing to clicking or clunking. Likely, any new sounds are a cry for help, typically indicating that pieces of machinery are making contact where they shouldn't be. This tends to happen over time, and in most cases, dryer repair with high-quality materials will silence those troublesome noises.
Call Fix It Appliance Repair Services for Dryer Repair Near Avon, Ohio
Despite their importance in a home, dryers are fussy machines with the potential to be dangerous if not handled properly. If something is wrong with your dryer, a prompt call to a local appliance repair service is a good idea. It can prevent carbon monoxide leaks or dryer fires. The FixIt Appliance team also provides a dryer maintenance service to avoid damage that stops your appliances from running.
Contact our team today to learn more about dryer repair services in the Avon area.