How to Fix Your Dishwasher Soap Dispenser
Posted on July 11, 2022
Dishwashers are great and can be your saving grace when you have piles of dishes overflowing in your sink. But when your dishwasher fails, and you're left washing every dish individually, it can be overwhelming, even when the problem is as simple as a broken soap dispenser. Manual dishwashing is time-consuming and uses tons of water that can make your utility bills skyrocket. Dishwasher repair in Avon is the most effective way to save costs and get your dishwasher up and running again. However, finding reliable appliance repair in Avon can be difficult when you don't know who to trust. FIX IT Appliance is an authorized repair service in Avon. We will quickly resolve the issue at an affordable price.
Read on to find out how to fix your dishwasher's soap dispenser.
Your Dispenser is Clogged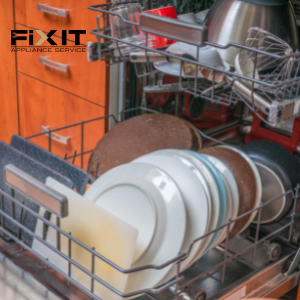 Using your dishwasher should be simple, although if you have noticed that your dispenser opens properly, but the soap stays inside, your dispenser is likely clogged by something. Often, malfunctions are caused by grease buildup or food particles. To prevent this, ensure that the bottom items are secured and rinsed in the rack and will not fall out, avoiding the detergent from dispensing and allowing your dishes to clean adequately.
Damaged Hinge Pin or Door Spring
If your soap dispenser for your dishwasher is stuck closed, there may be an issue with its spring and hinge pin. Many dispenser doors have springs to open swiftly. If your dispenser is damaged or old, the door will not open to dispense the detergent. Whether you need your hinge or spring replaced, the team at FIX IT Appliance always uses high-quality materials that last for every appliance repair in Avon. With expertise and industry standards always in use, we're confident you'll be satisfied with our service.
Faulty Wax Motor
New dishwashers use an electrical wax motor that releases the catch of the door for the detergent. If the wax motor receives an electrostatic charge, a rotor will release the latch that keeps the door closed. If this has happened, a dishwasher repair in Avon is needed before it becomes more damaged, which may result in a replacement and spending more money.
Why Choose Fix It Appliance for a Dishwasher Repair in Avon
FIX IT Appliance Services is your desired appliance repair company in Avon, Ohio. We are certified and experienced professionals who work hard to make our customers happy. We are recognized service providers for various brand-name appliances, including Whirlpool, Kitchen-Aid, and Samsung.
It's time to stop hand washing dishes and start dishwasher repairs in Avon today!