How to Fix a Washer Stuck on Rinse Cycle
Posted on September 15, 2023
When it comes to household chores, a working washing machine is a true lifesaver. With just a press of a button, it gets to work cleaning your clothes and home fabrics with ease. However, like all appliances, there are times where your laundry machine may get stuck, needing appliance repair services. If your laundry seems stuck on the rinse cycle, there can be a way to solve it with expert washer repair in Westlake. At FIXIT Appliance, we provide fast and effective appliance repair in Westlake, Avon, North Ridgeville, and the surrounding areas.
Read on to learn how you can bypass the frustrations of a broken washing machine with these expert tips and professional appliance repair in Westlake and enhance laundry day.
Understanding the Rinse Cycle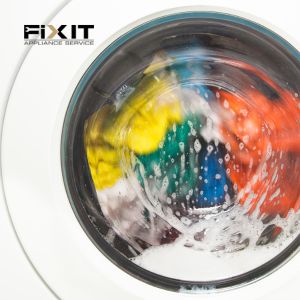 In your washer's laundry routine, the rinse cycle follows the wash cycle. During this phase, the machine drains excess soapy water, refills with clean water for rinsing, and then drains again. If your washer is stuck on this stage, it could be due to several reasons, and here's how you can address them:
Check for Unbalanced Loads
A washer may get stuck in the rinse cycle if the load inside is unbalanced. Uneven distribution of laundry can cause the machine to struggle, as it attempts to redistribute the load for a balanced spin. Open the washer, rearrange the items inside, and ensure they are evenly spread. Restart the cycle to see if this resolves the issue.
Examine the Drainage System
A clogged or malfunctioning drainage system can lead to a washer getting stuck during the rinse cycle. Check for any visible debris or blockages in the drain hose and the drain filter. Remove any obstacles you find and try running the rinse cycle again.
Inspect the Water Inlet Valve
A faulty water inlet valve could be causing the problem. This valve controls the flow of water into the washer. If it's not opening or closing properly, it can result in a cycle that won't progress. In this case, you may need to replace the water inlet valve, which might require the expertise of a company specializing in appliance repair in Westlake.
Reset Your Washing Machine
Sometimes, electronic glitches can cause a washer to malfunction. To reset your washer, unplug it from the power source for a few minutes, then plug it back in. Restart the cycle and see if it progresses beyond the rinse stage.
Check the Timer or Control Board
If your washer's timer or control board is faulty, it may get stuck during any cycle, including rinse. Examine these components for visible signs of damage, loose connections, or burnt-out elements. If necessary, consider replacing them or consult an appliance repair specialist in Westlake.
When to Seek Professional Appliance Repair Services
If the at-home troubleshooting steps mentioned above don't resolve the issue and your washer remains stuck on the rinse cycle, it's time to consider professional appliance repair services. When you notice signs like unusual noises from your washing machine during the rinse cycle (grinding, clanking, or dragging) or the washing machine continues to get stuck on rinse during the cycle, leave repair to the experts at FIXIT Appliance. Our teams will show up on-site quickly to diagnose your laundry issues and enhance its functionality with washer repair in Westlake.