Dryer Maintenance Tips for Homeowners
Posted on September 30, 2023
Appliances are an integral part of our daily lives. They make household chores more manageable and efficient. Among these appliances, the dryer is a significant time-saver, especially in cities like Avon, where unpredictable weather can make air-drying clothes a real challenge. However, like any other machine, dryers require regular care to ensure they function safely and effectively. The best way to mitigate the need for future dryer repair in Avon is with reliable dryer maintenance. At FIXIt Appliance, our team goes beyond appliance repair in Avon. We also offer dryer maintenance services to keep your home safer and running smoothly.
To explore some recommended tips to maintain your dryer at home, read on.
Clean the Lint Filter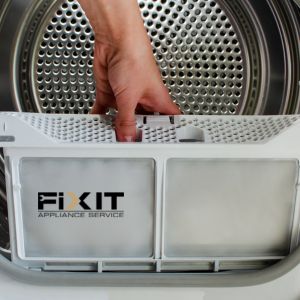 After every drying cycle, removing and cleaning the lint filter is essential. Lint is the fine, cottony material that comes off clothes and accumulates in the filter during drying. If not cleared, lint buildup impedes the airflow within the dryer. This airflow restriction not only slows down the drying process but also forces your dryer to work harder, consuming more energy. Regularly cleaning the lint filter allows for proper air circulation, leading to faster drying times and lower energy bills while minimizing your need for dryer repair. To ensure your lint trap is in good condition, contact FIXIT Appliance. Our technicians will help you identify and eliminate blockages that compromise your machines.
Inspect the Ventilation System
Lint doesn't just accumulate in the lint filter; it can also find its way into the dryer's vent system. Over time, this buildup can clog the vents, obstructing the passage of hot air. At this point, professional appliance repair in Avon would be required. Not only do blocked dryer vents interfere with the ability to expel moist air, extending your dry time, but blockages can also cause dryers to overheat, potentially leading to a fire. Regularly inspecting and cleaning the vent system is vital for maintaining both efficiency and safety.
Inspect the Dryer Drum
While you may not think of the drum as a maintenance item, it's essential to check it periodically for foreign objects. Small items like coins, buttons, or even forgotten tissues can find their way into the drum from the pockets of your clothes. These items can damage your clothes and the drum itself, leading to significant damage. Regularly inspecting the drum and removing any foreign objects is a preventive measure that ensures your dryer's longevity and the well-being of your garments.
Examine the Seals
The seals around the dryer door can be overlooked by the average homeowner, but they play a crucial role in your dryer performance. Damaged or worn seals allow heat to escape, reducing dryer efficiency. This inefficiency can lead to longer drying times and increased energy consumption. By checking and maintaining the door seals, you can keep your dryer running at peak performance and reduce your energy bills.
Use Dryer Balls
Dryer balls or clean tennis balls seem like a minor addition to your laundry routine, but they can significantly impact your dryer's performance. These balls help break up clumps of wet clothes, improve air circulation, and reduce drying time. By using dryer balls, you not only save time and energy but also extend the life of your dryer by reducing the wear and tear associated with longer drying cycles.
Schedule Professional Maintenance
While do-it-yourself maintenance is helpful, it's also beneficial to schedule professional dryer maintenance annually. An experienced FIXIT Appliance technician performs more comprehensive inspections, cleaning, and tune-ups of your dryer to effectively address any hidden issues or wear and tear. If there is a problem that needs immediate attention, our team can provide you with affordable and reliable appliance repair in Avon. To learn more about our dryer services, reach out directly.