2023 PROMOTION
Dryer fires are real – and they can happen in an instant! The good news is that a little preventive maintenance can BOTH prevent fire AND make your dryer work better, preventing the need for dryer repair.
Quick Facts About Dryer Fires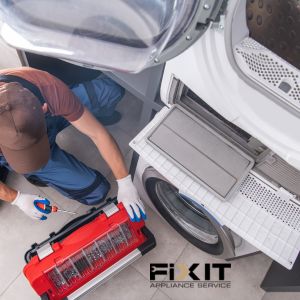 The U.S. Fire Administration reports almost 3000 dryer fires every year. That comes with an estimated FIVE deaths, ONE HUNDRED injuries, and $35 million dollars in property damage.
Failure to properly clean the dryer accounts for a whopping 34% of dryer fires. Not surprisingly more dryer fires occur during the fall and winter months, with peak numbers in January.
Preventive Maintenance From the Experts at FIXIT Appliance Service
With FIXIT Appliance Service, one of our trained technicians will inspect and assess your clothes dryer, and provide a step-by-step maintenance process. Once a year - and your done!
Inspect the front and rear drum seals
Check drum belt and idler pulley status
Assess wear and tear on support rollers
Lubricate all parts with thermal grease
Check exhaust system for leaks/kinks
Inspect electric connections/grounding
Check thermostat to verify high heat
Check operation of the "moisture bar"
Inspect gas line connections for leaks
We also make sure that your clothes dryer is LEVEL, allowing for peak performance. Finally we vacuum the inside of the dryer unit and the entire exhaust vent (up to 10 feet in length).