Why Won't Your Heating Elements Work?
Posted on June 23, 2022
After a long day, the last thing you want is to come home and start making dinner to find your stove isn't lighting up. If you're looking to get your kitchen up and running quickly, you might look for appliance repair nearby. For the best range repair services in Avon, Avon Lake, Westlake, and the surrounding areas, call the team at FIX IT Appliance. You can count on reliable and affordable range repair services to make your kitchen operational again.
Look for these signs to know if your heating elements aren't working. So you can call FIX IT Appliance Services right away.
There can be multiple reasons for your heating elements not working effectively, including loose or burnt wiring, defective surface element switch, broken heating element, or your surface element board has failed. Instead of buying a brand new range, trusted range repair services from FIX IT Appliance Services will help you restore your range. We offer top-quality, expert work to never leave you disappointed.
Signs to Look Out For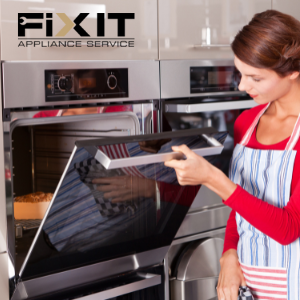 Before you can pull out your phone to look up "appliance repair services near me," you'll need to recognize the signs your range needs repair. Since a kitchen range contains complex electrical components, many issues need professional service. Often, your range will require a legitimate diagnosis to follow up with professional appliance repair near the area.
Overcooked or Undercooked: Each burner should be heated to the temperature you set on the stove. Suppose you're noticing that your food is either overcooking or undercooking every time you make food. It's most likely not heating up properly and proportionally. In that case, there is an issue with your kitchen range.
Power: Maybe some of your burners are not turning on or off after a few minutes of each use. This indicates that your heating elements aren't working, and a professional needs to take over to fix the problem as it is most likely an electrical issue.
Noises: You definitely should not be hearing any concerning or strange noises coming from your stove. A range is typically a quiet appliance, so if you hear any unusual sounds such as ticking, buzzing, or rattling, it's something you should have a professional appliance repair technician investigate.
Odors: Smells coming from your kitchen range shouldn't be taken lightly and should be an issue to which you give extra attention. Smells such as smoke, burning, or gas could indicate that there could potentially be trouble. To ensure that you're safe, call FIX IT Appliance right away, and we will be able to give you a quick and efficient diagnosis.
Why Choose FIX IT Appliance Services
As a family-owned business, we know what it's like to have your home appliances fail on you. FIX IT Appliance technicians are equipped with the right tools, training, and certifications to promise that you will be satisfied with our work. We work quickly and efficiently but consider every detail and perform adequate diagnostics. Heating elements are essential to any family that wants to cook a home-cooked meal, so getting your range repaired or replaced should never be a hesitation.
Contact FIX IT Appliance Services to get a kitchen range diagnosis today.