When Do Lint Trap Problems Require Dryer Repair
Posted on March 28, 2023
A lint trap is a crucial component of any dryer as it helps maintain safe and efficient operation. Keeping your lint trap clean and functional is, first of all, a safety measure as it helps prevent fire hazards when you're doing laundry. Moreover, it can ensure your clothes are efficiently and effectively dried, helping you to save on time, energy, and money when it comes to laundry. However, when the lint trap is damaged or simply neglected, it can lead to a host of problems, requiring professional dryer repair services.
At FIXIT Appliance we provide a range of laundry appliance repair services to keep prevent costly issues in the future.
Read on to learn when you may need an appliance repair team for your lint trap problems.
Signs of Lint Trap Trouble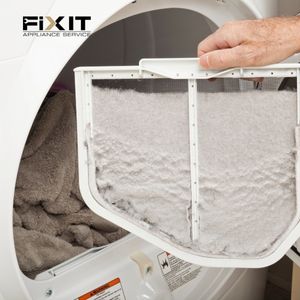 One big thing to be on the lookout for is signs that your dryer isn't performing as well as it used to. Like most people, you likely use your appliances on a fairly regular basis, and, of course, the more you use it, the more wear and tear it goes through. Keeping a look out for these signs when you use your dryer can help you address the issues sooner and avoid even more damage. This can include clothing coming out damp or taking longer than usual to dry well. Another telling sign is excessive heat or humidity in the laundry, as it can be a sign that your dryer is working overtime.
Risk of Delayed Dryer Repair
Though it may seem easy to ignore some of these problem signs, they can result in massive risk. The largest risk is fire. When your lint trap begins to exhibit problems, it can leave the heat in your dryer with nowhere to escape, which can quickly lead to a fire in your laundry room. Another significant risk you run by ignoring your lint trap problems is permanent damage to your appliance. As your dryer works overtime to compensate for the lint trap problems, its wear and tear will increase, leaving you with irreversible damage to your appliance.
When to Call an Appliance Repair Expert
If you find yourself regularly cleaning your lint trap, but issues still persist, that may be a sign that it's time to call in a professional. Likewise, if you find the lint trap clogged or damaged, you'll need a professional to be able to properly attend to your dryer's issue. When in doubt, it's always better to have a professional look into your appliance issues, as DIY mistakes can lead to severe consequences.
Prevention and Maintenance Tips
The first way to maintain your lint trap in working condition is to clean it after each and every use. It may seem like a small detail, but regular cleaning is essential. The second way is to have regular inspections, as you should with all your appliances, to assure that there aren't any issues developing below the surface.
Choose the Reliable Appliance Repair Experts
It's important to bring in a professional in dryer repair to avoid potentially making the situation worse. The team at FIXIT Appliance in Avon, Ohio and has years of experience in appliance repair that they bring to every job. With FIXIT Appliance, you can rest assured knowing your dryer repair will be well-done in a safe and efficient manner.