What's Going on With Your Dryer Drum?
Posted on June 19, 2023
Used by homeowners virtually every day, the dryer is one of the most important home appliances. Despite its critical value to the home, dryers are often the first to be on the fritz. Without prompt dryer service from professionals experienced with appliance repair near Avon, a broken dryer is more than an inconvenience; it can be a hazard. If you find that your dryer drum is not working as expected, don't wait to get the support you need from the dryer repair experts at FIXIT Appliance Service. Our team of experienced technicians will be on-site to help you diagnose and rectify the problem as quickly and efficiently as possible.
Read on to learn more about what could be causing trouble with your dryer drum.
What Does the Dryer Drum Do?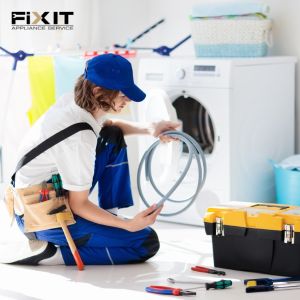 The drum is the cylindrical part of the dryer either accessed on the top of the machine or from the front, where clothes are loaded. It is responsible for containing the clothes or other items in the machine while the dryer spins. The dryer drum is controlled by a drive pulley and idler pulley that enables rotation by tugging on the drive belt that surrounds the drum. When your dryer drum fails to turn while the dryer runs, it causes you to consume energy without actually effectively drying your clothes. This problem can drive utility bills and frustration for homeowners throughout the Avon area. With expert appliance repair near Avon from the FIXIT Appliance Service team we can help you restore functionality to your laundry machines.
Signs of a Broken Dryer Drum
Most people turn their dryer on, shut the door, and walk away, with no idea how well the machine is functioning until they come back and find their clothes still wet. There are some telltale indicators that you need a dryer repair professional you can look out for, including:
Noisy Operation:
One of the most frequent issues with dryer drums is excessive noise during operation. If you notice banging, scraping, or squeaking sounds, it could indicate worn-out or misaligned parts. The culprit might be a damaged or loose drum support roller, worn drum glides, or a faulty belt. Replacing these components can restore smooth and quiet operation. It is advisable to consult a professional for dryer repair, especially if you're unsure about disassembling and replacing these parts yourself.
Drum Not Spinning:
If your dryer drum fails to spin, it can impede the drying process and leave your clothes damp. This issue may stem from a broken or slipped drive belt, a malfunctioning motor, or a faulty drum roller. Inspect the belt for any visible damage or looseness and ensure it is properly positioned. If the belt seems intact, the problem might lie with the motor or drum roller, requiring professional attention for diagnosis and repair.
Overheating:
An overheating dryer drum is a serious problem that requires immediate attention. It can lead to reduced drying efficiency and, more importantly, pose a fire hazard. Several factors can contribute to overheating, such as a clogged vent system, a malfunctioning thermostat, or a faulty heating element. Regularly cleaning the lint trap and ensuring proper airflow through the vent system can prevent overheating. If the issue persists, seek professional dryer repair services to inspect and address the underlying cause.
Uneven Tumbling or Clothes Getting Stuck:
If you notice that your clothes are getting tangled or stuck together during the drying process, it may indicate a problem with the drum's alignment or its support system. Misaligned or damaged drum glides, worn drum seals, or a faulty drum bearing can lead to uneven tumbling. These issues can cause unnecessary wear on your clothes and may even result in damage to the drum itself. Contact a professional appliance repair technician in Avon to evaluate and rectify the problem.
The Leading Appliance Repair Services Around Avon, Ohio
At FIXIT Appliance, our teams are dedicated to providing fast, effective, and high-quality service. From affordable pricing to premium materials and comprehensive service, you can count on excellent customer service when you choose FIXIT Appliance for your repair needs.
Concerned about your dryer?