What's Causing Your Leaky Fridge
Posted on January 27, 2023
If you open your refrigerator looking for a snack or with the hope of preparing a meal, only to find that your food feels warm or there is a strong odor emanating from the inside, you may need refrigerator repair services, because your refrigerator may be leaking water. At FIXIT Appliance we offer reliable appliance repair near Westlake for all your refrigerator needs. To learn how to get your fridge back in working order, contact our team for fast and reliable on-site refrigerator repair.
Signs that Your Fridge is Leaking?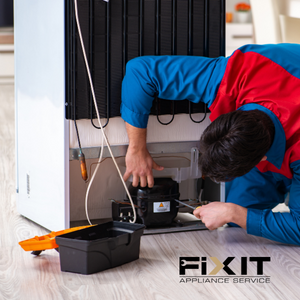 The appearance of water pooling around your refrigerator or signs of water damage to nearby building materials such as the floor, carpet, or wall are clear signs that water is being lost. But sometimes, the indicators that you need refrigerator repair are not as obvious. Leaks in the fridge often occur outside the realm of day-to-day activities which can make visual assessments more challenging. Other non-visual indications of a leaky refrigerator are poor temperature regulation or a warmer than normal fridge temperature. You should also keep an eye out for higher electricity and hydro bills, as well as an overworked fridge motor. All of the signs indicate that your refrigerator is overcompensating for what could be a leak. To confirm whether your fridge is leaking or not, contact FIXIT Appliance Services for a diagnosis and appliance repair in Westlake.
What is Causing Your Fridge Leak?
Upon the arrival of your FIXIT Appliance Service refrigerator repair team, your technician will begin by assessing the cause of your leak.
Blocked Water Lines: Modern fridges that supply drinking water and ice are equipped with water lines that send clean water to the fridge. When these lines are clogged, it can interrupt this functionality. Sometimes blockages can be attributed to a piece of ice, which may melt and free the pipe for use. If access to the water isn't available after a day or so, contact FIXIT Appliance for reliable refrigerator repair in Westlake, Avon, North Ridgeville, and the nearby areas.
Defrost Drain Blockages: Most refrigerator models will defrost twice every day for about 25-45 minutes. During the defrost cycle water that is melted is supposed to drain away from the fridge. When you notice that your refrigerator is leaking, most of the time that cause can be linked to a blocked defrost drain. The defrost hole in the fridge may be blocked from ice which forms after cycles of cooling and freezing, which ultimately forms many layers of ice that eventually eclipses the entire open. The drain may also be blocked from debris. If you notice water pooling beneath your fridge once or twice per day, contact FIXIT Appliance to inspect your fridge and proceed with the appropriate appliance repair services.
Interior Water Leak: Sometimes water leaks at the rear of the fridge can be more difficult to notice, until you pull the entire appliance out of its slot. If you see signs of water damage around the materials adjacent to your fridge or notice puddles of water below you, then there may be a problem with the water valve or pipe. This is a job for a professional refrigerator repair technician. Don't try to DIY this repair, instead contact FIXIT Appliance.
Refrigerator Repair Services You Can Count On
At FIXIT Appliance Services we offer high-quality and reliable appliance repair services near Westlake, Avon, Avon Lake, North Ridgeville. We are available around the clock to serve all of your emergency repair needs.