What Happens When You Overload Your Washer and Dryer?
Posted on December 21, 2021
Modern or traditional laundry machines both operate by spinning a drum to either wash or dry clothes. As a result, some of the most notable washer and dryer repair arises when there is damage that occurs to the drum of either of these machines. Seemingly a simple piece of equipment, an overloaded laundry machine drum often leads to the need for professional appliance repair services in Avon.
Here's what you should know about overloading and its relation to washer and dryer repair.
Does Load Size Matter?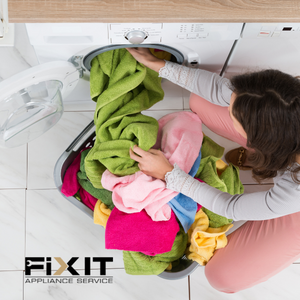 The first indicator that load size matters when it comes to laundry appliances is the ability to choose a load size. Granted, it can be difficult to properly assess the size of your load, gauging it accurately may save you the need for appliance repair services in Avon. Choosing a load size will impact the amount of water or energy a machine uses and its completion time. Since you typically have up to three size options, your laundry machine will be able to manage any of those, but when you exceed capacity, you'll likely see problems follow.
Besides washer and dryer repair, overloading your machines will cause uneven cleaning as well as wasted water and energy.
How Does Overloads Affect Drum?
Washer and dryer repair is the logical result of overloading your machines because densely packed clothing strains the appliance, making it work harder to spin and scrub items. This can quickly lead to overheating and physical damage, as appliances will likely jump, vibrate, and shake as they get stuck. When water fills washing machines that are already packed to the brim with clothing, it is likely to overflow, which can damage electrical machines and the rest of the home.
Signs You've Overloaded Your Laundry Appliances
You may not realize that you're in need of washer and dryer repair the first time you've overloaded the machines. After repeat occurrences, the signs will become apparent. Call the FixIT appliance team for appliance repair services in Avon if you notice that the drum won't spin. If this is the sign that drives you to call the repair team, be sure that you separate your laundry loads following your visit from local appliance repair services in Avon.
How to Load Your Appliances and Avoid Washer & Dryer Repair Services
The capacity of your machines will depend on the drum size. A 13lbs (6kg) drum should be able to wash approximately 6 t-shirts, 2 pairs of jeans, and 5 small towels. A larger 22 lbs (13kg) drum should be able to handle more than double that amount. An easier way to assess whether your machine is too full is to reach your hand in and feel if 1) your hand is able to get through the contents and 2) if there is space for it to move around. To be sure, refer to your user manual for more insight into laundry load capacity.
Appliance Repair Services in Avon
Sometimes, despite the care we take during laundry, surprises happen, and machines fail. Typically, major kitchen and laundry machines don't exceed their expected lifespan of 10-15 years without appliance repair services. So, if you notice something strange with your home appliances, the team of experienced repair professionals at FixIT Appliance can help.
Contact us today for more information or to schedule an appointment.