Signs Your Major Appliances Might Need Repair in Ohio
Posted on July 07, 2021
Today, more than ever, home appliances have the potential to fail as they approach the ten-year mark. The problem, of course, is that replacing appliances is expensive, so repairs are a viable option. Hiring the services of an appliance repair shop in Ohio could be the answer to effective repairs and saving money at the same time.
For dishwasher repair, dryer repair, range repair, washer repair, oven repair and more, the team at FIXIT Appliance Repair will get things working right. We have many years of experience with all appliance brands – from Whirlpool to Maytag to Kenmore to Sub-Zero. And with our excellent customer service, we make the process stress-free.
Dishwasher Repairs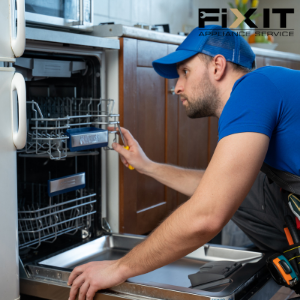 With dishwashers of all brands, there are some common repair issues. There may be a problem with the inlet valve that allows water to flow into the machine. There could be a problem with the wash arm, which sprays water. Or there could be an issue with the drain pump, which drains the dirty water out. You may notice water leaking in any of these situations, dishes coming out cold, or improper draining. If any of these signs become apparent, you can Call Fix It Appliance Service for fast, high-quality dishwasher repair in Ohio.
Dryer Repairs
When a clothes dryer is malfunctioning, the signs are apparent. There may be strange vibrations during a cycle. The machine may be overheating (or under heating). It's also possible that the dryer is simply not turning on. If the dryer isn't effectively drying clothes, then it's time for professional repairs. It's vital to keep an eye out for dryer malfunction as they are more likely to ignite a fire than other broken appliances. Depending on the urgency of the situation, the team at Fix It Appliance offers emergency appliance repairs 7 days a week, so you can fix your dryer risk-free.
Range Repairs
The problems that most commonly affect kitchen ranges involve the heating elements. They either don't turn on, won't turn off, or don't get hot enough. When the electronic "control board" needs repairs, this is a time for expert attention.
Oven Repairs
Whether it's gas or electric, expert oven repairs in Cleveland are usually required. Indicators that your oven is not working correctly could be a burner that doesn't light properly, an oven that doesn't heat effectively, and in some cases, an internal temperature that is inconsistent. Often these issues are discovered when dinner comes out of the oven, either partially raw or burnt. Sometimes the problem can be as simple as an oven door not closing. Either way, if you notice any of these things, a local appliance repair shop in Ohio can provide you with a fast fix that enables you to get back to your day quickly.
Washer Repairs
Strange vibrations or sudden stopping during a wash cycle are sure signs of a washer problem. You also should look out for water that isn't draining during the appropriate stages of the washing cycle. If you're not sure what the problem is, you can call Fix It Appliance for an easy and comprehensive appliance diagnosis. Our team of experienced technicians will identify any washer repairs you need and the best approach to fixing it.
Fridge Repairs
Unlike other appliances, the fridge is vital in any household. If it's not working, there are serious consequences. Essentially, the biggest problem in the fridge is when food isn't being kept cold or frozen. This is an appliance that may require emergency service to get things back on track. You can easily tell the fridge is not staying cool if the food inside is going bad faster than usual.
For a reliable appliance repair shop in Ohio Trust the Team at FIX IT Appliance Service
For dishwasher repair, dryer repair, washer repair, range repair, oven repair and more, FIX IT Appliance Service offers complete satisfaction by factory-trained technicians. FIX IT is family-owned and family-run, offering reliable, reputable service for all major appliances.
Call the team at FIX IT Appliance to get started on your diagnosis today.