Reasons Why Your Dishwasher is Not Dispensing Soap
Posted on October 27, 2022
The dishwasher is one of the most essential appliances you can have in your home. From hosting large events to small dinners with your family, your dishwasher requires minimum manual assistance and helps you save a significant amount of time. When your dishwasher malfunctions, it can throw off your whole routine. If you're used to using your dishwasher every day and suddenly it stops performing effectively, standing over the sink and spending time washing your dishes can be an inconvenience.
One of the most common issues that trigger a call to an appliance repair company in Avon, is when the dishwasher stops dispensing soap. As a result, dishes are cleaned properly, wasting water and time. When you need a dishwasher repair, the team at FIXIT Appliance offers high-quality services to spare you the cost of replacing your appliance.
Continue reading to learn why your dishwasher isn't dispensing soap.
Soap Buildup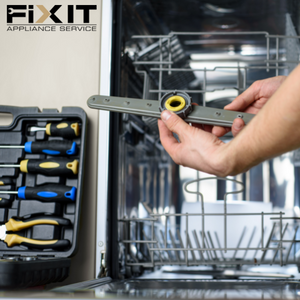 Understandably, one of the most common reasons dishwashers cannot dispense detergent is due to soap buildup. Dishwashers are designed to spray water into the detergent dispenser and soap onto the dishes. When latch grooves and dispensers are filled with soap buildup, it is impossible to effectively clean your dishes. Instead of stressing about purchasing a new appliance or having to wash dishes in the meantime, contact the experts at FIXIT Appliance Service for efficient dishwasher repairs in Avon, Ohio.
Detergent & Rinse Aid Dispensers
When determining why your dishwasher soap isn't dispensing, check the detergent and rinse aid dispensers inside the door. The detergent dispenser is designed to release your detergent into the dishwasher during its wash cycle and has two components: an open compartment for pre-washing (rinse aid) and a sealed enclosure for the main wash (detergent dispenser).
Before contacting an appliance repair company in Avon, check the detergent dispenser for any damage, old detergent buildup, or discolouration, ensuring the door opens and closes easily. If you only notice a detergent buildup, rinse and clean the dispenser. If there are cracks or other damage, a replacement piece is required. At FIXIT Appliance Service, we have decades of experience in dishwasher repairs for various brands, including LG, Samsung, Whirlpool, Kitchen-Aid, and many more.
Door Spring
The dispenser door is spring-loaded, meaning during a wash cycle, the dishwasher's soap dispenser springs open to let the detergent out, followed by hot, warm jets that clean the dishes. However, if you notice that your dishes are coming out of the dishwasher dirty, your door spring may be the problem. Some signs include dirty dishes, grime from detergent around the dispenser door, or having to manually pry the soap dispenser open.
When your dishwasher malfunctions, it can be a stressful situation, as replacements can be pricey. It's crucial to tackle the problem as soon as possible before further damage occurs by contacting a professional appliance repair company near you. At FIXIT Appliance Service, we will inspect, diagnose, and repair your dishwasher in no time - allowing you to use your dishwasher right after service.
Expert Appliance Repair Company in Avon
Although a DIY quick fix can be used for other issues around your household, when it comes to appliances, it's best to leave it to the professionals. At FIXIT Appliance, we know just what it takes to repair your dishwasher quickly and effectively. Our technicians have the equipment, parts, knowledge, and expertise to thoroughly analyze the issue and determine a solution.
Contact the professionals at FIXIT Appliance Service for dishwasher repairs in Avon.