Local Appliance Repair Shop vs the Big Box Stores
Posted on August 11, 2021
Major home appliances play a significant role in day-to-day life. And when any one of those appliances needs urgent repair, it's better to deal with a local shop rather than a Big Box store. If you're currently looking for a reputable appliance repair shop in Ohio, FIXIT Appliance Repair will get your machines working like new.
The team at FIXIT Appliance Repair does it all – from dishwasher repair and dryer repair to range repair, oven repair and more. The FIXIT Appliance team services all the major brands, including Whirlpool, Maytag, Samsung, and Frigidaire. We make the appliance repair process stress-free with our excellent customer service.
The Benefits of a Big Box Store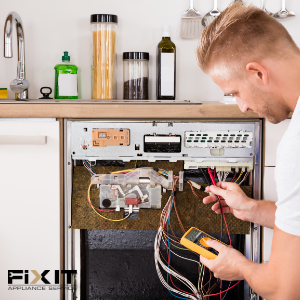 Certainly, shopping for home appliances at a Big Box store has advantages. The prices are probably the best in town, and the service team has the resources to deliver and set up your machine once you have made the purchase. But when it comes to providing dishwasher repair, dryer repair, range repair, oven repair and more, the Big Box stores are not ideally set up. Worse still, they don't really have the response time and personalized service when homeowners are stressed about repairs.
Big Box Store Disadvantages
Big Box stores do well in marketing, advertising, and selling their products. And while they may try hard, personal service is typically not one of their strengths. Worse still, communicating through an 800 number and going through all the departments to get service can be slow and tedious. Due to the high volume nature of big box stores, they are not effectively set up to provide the same personalized service response that smaller independent retailers can. At FIXIT Appliance Repair, our people are set up to take over where the Big Box stores leave off.
The Benefits of Local Repairs
One of the benefits of a local appliance repair shop is that support staff and repair technicians are in-house. The fact is, modern appliances have a life expectancy and repair work will eventually be required. As such, the services of a local repair shop become essential. FIXIT Appliance Repair is your essential appliance repair shop in Ohio, addressing your service and repair needs with highly personalized service, professional repairs, and specific guarantees on parts and workmanship.
Working With the Team at FIXIT Appliance Service
Not surprisingly, many people find it challenging to source a trustworthy appliance repair shop. Some shops take installation shortcuts and even use substandard parts when repairing appliances. At FIXIT Appliance Repair, our team of technicians is highly trained and experienced. We only use the highest quality products and we never cut corners during a repair procedure.
For the most part, our technicians are available 7 days a week. We offer our customers weekend calls and after-hours calls, especially when emergency repairs are required. FIXIT Appliance Service is a family-owned and family-run business. For the benefit of our customers, our parts are fully guaranteed for three months, and our service repair work is guaranteed for one month.
Contact the team at FIXIT Appliance to schedule your appliance repair across all the major cities in Ohio, including Cleveland, Avon, Westlake, North Olmstead and more.