Is Rust The Reason You Need Washer and Dryer Repair in Avon?
Posted on January 19, 2022
Household appliances that regularly use water, like washing machines, refrigerators, dishwashers and dryers are susceptible to rust over time (yes, even the stainless steel ones). However, rust doesn't exactly mean that it's time to replace your appliances entirely if you reach out to certified appliance repair services in Avon. While dealing with rust on your own may seem like an easy fix, it may be more costly if things don't go as planned.
Technicians at FIX IT Appliance Service are well versed in all sorts of appliance repair services in Avon, Ohio, from fixing washers and dryers to tuning fridges and dishwashers. So instead of tackling rusting issues on your own, contact us now to have expert and professional help in washer and dryer repair in Avon.
While you're here, here's what you need to know about rust and its impact on your washer or dryer.
Signs Of Rusting Laundry Appliances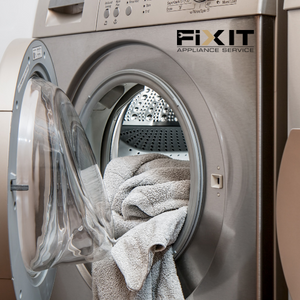 A visible and frustrating indicator of rust in your washer is your clothing coming out with rust stains after a wash. As rust particles mix in with the water, the water becomes discoloured and seeps into the fabric, leaving stains that are near impossible to remove. Orange, brown or red metal-flakes in the drum are another visible indicator of rust, which could be stemming from water pipes or the washer's drum itself.
Unfortunately, rust in your dryer can leave a similar visible trace. Rust within your dryer can also result in coloured stains that are difficult to remove. Rust from the air duct may trickle into your load during the drying process, while rusted drum seals may rub off on your clothes. If your clothes are coming out of the wash brown or yellow, you may need to bring in appliance repair services in Avon. At FixIt Appliance, our team will inspect the machines and assess the damage. In most cases you won't need to replace the washer, simple washer and dryer repair in Avon from experienced technicians will suffice.
What Causes Appliance Rust?
There are several reasons why your washer or dryer develops rust. With washing machines, rust may develop due to corrosive cleaners and materials, metallic objects left in the machine that have corroded, rusting water pipes and exposure to moisture. For dryers, a common problem that leads to rust is overloading, which can also lead to your dryer noise, poor drying results and vibration. When a dryer is jam packed full of clothes, rust develops when the clothing items are pushed along the appliance's seals during the drying process.
Washer and dryer repair in Avon can be prevented with our appliance repair services in Avon, which includes a dryer preventive maintenance program. Once a year, a trained technician at FIXIT Appliance Service will inspect and assess your dryer, before providing a step-by-step maintenance process.
Addressing Rust & Washer and Dryer Repair in Avon
Fortunately, rust can be easily addressed and removed. While it may be possible to deal with rust on your own, it's recommended that you consult with experts at FIX IT Appliance Service first. Rust can not only lead to more severe issues with your appliance over time, but attempting to solve the problem by yourself may also make the matter worse.
Appliance Repair Services near Avon
At FIX IT Appliance Service, we provide both a professional diagnosis and a sure fix. While rust may be solved by addressing it yourself, our professionals not only carry the correct tools to deal with the rust, but we have the expertise to make appropriate repairs.
Contact us now to speak to an expert in dryer, washer and any other household appliance at today.