Is Fabric Softener the Reason Your Need Dryer Repair?
Posted on February 24, 2023
Fabric softener and dryer sheets have long been staples of the laundry process. The main purpose of fabric softener is to reduce static cling, reduce friction between fibers, and add a pleasant scent to clothes. After all, who doesn't love softer, fresher clothes? Despite the benefits it brings to the fabrics themselves, the additive used in most fabric softeners is being increasingly reported to be linked to appliance trouble. This has caused many people in need of dryer repair services before expected. If you suspect this is the case in your home and are in need of appliance repair services, contact FIXIT Appliance to get a team of experts to solve your problem.
Read on to learn more about the effects of fabric softeners and dryer sheets on your appliances.
The Benefits of Fabric Softener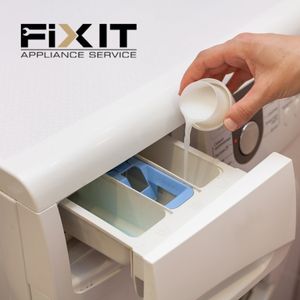 Before getting into the deterrents of using fabric softener, it's important to understand why it's become so popular in the first place. Washing your clothes with fabric softener can help keep your clothes soft and comfortable to wear. This can be particularly appealing to people with sensitive skin or young children. It can also be good for your clothes long term. Using fabric softener can reduce wrinkles and make them easier to iron—giving your clothes a more polished look.
Residue Build-Up
Fabric softeners tend to leave a distinct residue behind. It may be almost undetectable at first, but over time the residue can accumulate, both on your clothes and in your dryer. After too much usage on your clothing, it can create a stubborn, unappealing stain, but it can have a much more expensive effect on your dryer. Over time it can lead to clogged lint filters and ducts, reducing your dryer's airflow. This can make your dryer less efficient and increase the risk of fire. Leaving you with only two options: dryer repair or replacement.
Shortens the Life of the Dryer
Over time, the build-up of fabric softener residue can do even more damage to your dryer, especially if you don't bring in a team of professionals for repair. With continued use, the residue damages your dryer's drum, heating elements and other parts. This leads to a further decrease in efficiency and can significantly shorten the appliance's lifespan.
Increases Energy Costs
Despite being less efficient, a clogged dryer will still attempt to do its job. However, it will require more energy to run and, even then, may not be fully effective in drying your clothes. This extra effort can lead to a sudden spike in your energy bill, on top of any extra expenses you may incur repairing the appliance.
Reduces Absorption of Towels
As great as fabric softener can be on your clothing, it may not be the right choice for every fabric. Your instinct may be to assume, "how bad can soft towels be?" But at the end of the day, a towel's most important feature is its ability to dry. Unfortunately, fabric softeners can reduce the overall absorbency of fabrics, including towels, rendering them useless.
Professional Dryer & Appliance Repair Services
If you start to see signs that your home needs appliance repair, it's important to get an expert team, like the one at FIXIT Appliances, on the case as soon as possible. The longer you use your dryer without addressing the issue, the worse it can get.