How to Troubleshoot Laundry Appliances that Won't Turn On
Posted on February 25, 2022
You've collected all your dirty laundry, sorted it and planned the next few days on the completion of your laundry cycle. But then, seemingly out of nowhere, your laundry appliances just stop working. This situation – everything from the disruption to the very thought of repair expenses – can be very overwhelming in the moment. But in reality, the issue may not be as severe as you think it may be. A faulty laundry appliance that doesn't necessarily spell garbage – you may just need washer and dryer repair.
Appliance repair services in Avon from Fixit Appliance offer affordable and fast washer and dryer repair in the area. In addition to a thorough diagnosis, our team of certified repair technicians provides exceptional workmanship with high-quality parts and affordable pricing. If your laundry appliances won't turn on, don't send it to the junkyard. Below are some common issues that can be addressed with professional washer and dryer repair.
Why Your Washing Machine Won't Turn On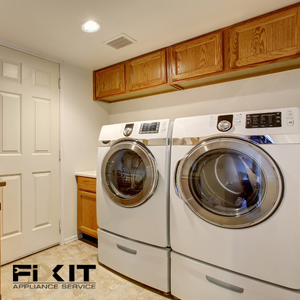 It's one thing if your dryer won't start. But if your washing machine won't even turn on, how do you even begin the actual laundry cycle? Below are some washer parts and components that are no stranger to malfunctioning, which may explain why your appliance isn't properly operating.
For front-loading machines, a faulty door switch may be the reason why your appliance won't start. Front loader washers won't start until the switch – located within the machine's door frame — is closed and the door is locked. If you think a faulty door switch is the problem, you can look into this component by checking the part where it engages into the lock assembly. Unplug your machine and use a multimeter to check if electrical current is running in your door switch. If continuity is not present, you likely require high quality appliance repair services in Avon from the FIXIT Appliance team.
A faulty lid switch for top-loading washers will lead to operation problems with your machine, as a malfunctioning lid switch will prevent your appliance's motor from operating. To check the performance of your lid switch, check the pin or pusher attached to the lid to see if it is pressing the lid switch, which is located under the lid. The washer should start when the lid is being pressed. But if it still doesn't turn on, you may need to look into replacing or repairing the switch as well.
Why Won't Your Dryer Won't Start
The most common issue for an inoperable dryer stems from an issue with the machine's thermal fuse, a safety device that protects your appliance from overheating. It will not function if the dryer vent is clogged. If a multimeter shows no continuity, you'll need to replace or repair the device and clean your dryer vent.
If it isn't the washer's thermal fuse, or the start and door switches, the problem may lie in the appliance's drive motor. This component enables the dryer's drum to turn and the blower wheel. The condition of the drive motor can be determined if you hear the dryer humming, but the machine isn't actually turning your clothes. You can check your drive motor by removing its belt and checking the blower wheel for any damages. If you find no obstructions, you will need to repair or replace your detective motor.
Washer and Dryer Appliance Repair Services Avon
The bad news is that prolonged use or the age of your appliances typically lead to the need for washer and dryer repair. But the good news is that most issues can be solved with repairs, rather than having to replace your appliances altogether.
FixIt Appliance technicians are not only well-versed in repairing washer and dryer woes, but they can provide expert knowledge about the best steps you should take to save your money and your appliances.
If you have any questions about your malfunctioning washer or dryer?