How to Repair a Leaky Dishwasher
Posted on November 25, 2022
Did you know that dishwasher repairs are one of the most common reasons homeowners call an appliance repair company? When your dishwasher starts to malfunction, it can be a burden, and the last thing you want after a busy day is to spend hours washing dishes. Before contacting a company for appliance repair in Avon, you may be able to solve the problem yourself. At FIXIT Appliance Service, we have years of experience in dishwasher repairs for various brands, including LG.
Below are possible reasons why your dishwasher is leaking and how to fix the problem efficiently.
Why Is My Dishwasher Leaking?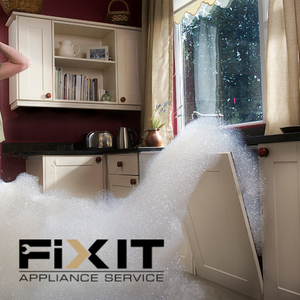 It's hard to imagine hosting an in-home event or a family's worth of dirty dishes when your trusted appliance isn't working correctly. Dishwashers simplify cleaning up after meals, and when your time-saving and efficient machine begins to leak, it can be stressful to deal with.
Dishwasher leaks can happen for several reasons, including a faulty door gasket, a broken drain hose, an unlevel dishwasher, and many other reasons.
It's essential to repair your appliance as soon as possible to avoid more headaches and costly replacements. At FIXIT Appliance Service, our highly trained technicians team is experienced in dishwasher repairs, ensuring your appliance is running smoothly in no time.
Faulty Door Gasket
A possible reason why your dishwasher is leaking could be due to a faulty door gasket. The door gasket is typically made of rubber and keeps water inside the dishwasher while running. After wear and tear or food buildup, it can prevent the door from sealing tight against the frame, causing water to leak from the sides of the dishwasher. To check if you have a faulty door gasket, run your hand along the gasket to find any signs of damage like cracks, dried-on food, or missing pieces.
How to Fix: If damaged, consult your owner's manual and swap out the gasket with a suitable replacement part. Start by removing the old door gasket by peeling it away, and clean the area with warm, soapy water. To smooth folds, warm the new door gasket with a hairdryer on low heat and position the center of the gasket on the top of the door, pressing evenly.
If your door gasket isn't broken or the DIY repair doesn't work, schedule a professional appliance repair in Avon with the experts at FIXIT Appliance Service.
Broken Drain Line
If you notice excess water in your dishwasher's tub, it may indicate an issue with your drain line. Wastewater from your appliance is done with a drain hose underneath the dishwasher, but over time the hose can crack or loosen, resulting in leaks.
How to Fix: Look to see if the drain line goes through the bottom of the cabinet, then begin to check your owner's manual to ensure the drain hose connection and installation are consistent with the model's instructions and that the hose clamp is appropriately positioned. If the drain line is installed correctly, your hose may be clogged, and you will need professional assistance.
Unlevel Dishwasher
For your dishwasher to perform sufficiently, it must be correctly leveled. A common reason for leaks is an unlevel dishwasher, causing water to overflow the tub top and exist underneath the door.
How to Fix: Place a high-quality level against the front of the appliance. If it's not level, turn off the power for the unit and remove the cabinet anchor screws. Remove the lower kick panel and sound insulation, and begin adjusting the leveling legs up or down to straighten it out. Finish by reinstalling the cabinet anchor screws and turning your dishwasher on.
If you've tried DIY attempts like leveling your dishwasher and still have no luck, it's best to contact a reliable appliance repair company.
Expert Dishwasher Repairs in Avon, Ohio
The FIXIT professionals know what it takes to effectively repair your dishwasher.
For quick, high-quality services at a cost-effective price, choose FIXIT Appliance Service.