How to Know if Your Refrigerator Thermostat Needs Repair
Posted on March 10, 2023
There are many parts and functionality integral to the functionality of your fridge, from compressors and water valves to drains. When one breaks, you may find your appliance out of order and in need of professional refrigerator repair. The thermostat is a critical component of your refrigerator that monitors the internal fridge temperature triggering the compressor and turning it on or off as needed. When your thermostat stops working, contact FIXIT Appliance for reliable appliance repair services near Avon, Ohio.
Don't know if your thermostat needs repair? Read on to learn when to call in the experts.
What Happens When the Thermostat Goes Out on the Fridge?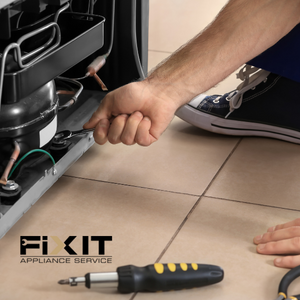 A broken thermostat will cause a refrigerator to malfunction. Many problems can result from thermostat trouble if refrigerator repair doesn't occur quickly. When the thermostat cannot effectively control the compressor and monitor the fridge temperature, it will lead to inconsistent temperatures, which can cause foods to spoil and items in the freezer to defrost, rendering your refrigerator dysfunctional.
A broken thermostat may also cause your compressor to become overworked or overheated. Because the energy readings are incorrect and the fridge is not cooling effectively, the compressor will overcompensate, leading to higher energy consumption and even compressor damage. In this case, you will need more elaborate refrigerator repair services.
Other problems resulting from a bad thermostat include frost buildup in your fridge from excessively cold temperatures or frost around your refrigerator evaporator coils. You may also notice inconsistencies in the defrost cycle, ice clogs, and reduced cooling efficiencies. Without professional appliance repair, a broken thermostat can disrupt more parts of your fridge and reduce the lifespan of the entire appliance.
Signs Your Thermostat Problems Require Refrigerator Repair
The best way to minimize damage from a broken fridge thermostat is to recognize the signs of a problem as soon as possible. The most notable indications of a thermostat malfunction are fridge temperature fluctuations which occur because your compressor is not getting clear signals from the thermostat. A clear sign is a fridge that is too cold or a freezer that is too warm.
You may notice a low humming or buzzing sound around your refrigerator. When your thermostat isn't functioning as it should, the hum of the compressor will continue for extended periods of time, indicating that it is working harder to maintain the desired temperature. When compressors constantly run without a break, they are more likely to break down sooner than expected.
What Causes Broken Thermostats
Once your appliance repair is complete, you'll want to prevent future thermostat issues to protect the longevity of your fridge. You can sometimes avoid damage by managing moisture around the thermostat, regularly cleaning dirt and debris, and mitigating physical damage from impacts. In other cases, where the problem stems from faulty wiring, electrical surges, or age, thermostat damage is out of your control.
Professional Appliance & Refrigerator Repair Services
When your fridge is not working the way it should, don't let it get in the way of your life. Instead, call FIXIT Appliance, a leading appliance repair service provider in Avon, Westlake, North Ridgeville and the surrounding areas. We are family-owned and operated, committed to customer service, and available all week to provide 24/7 care.